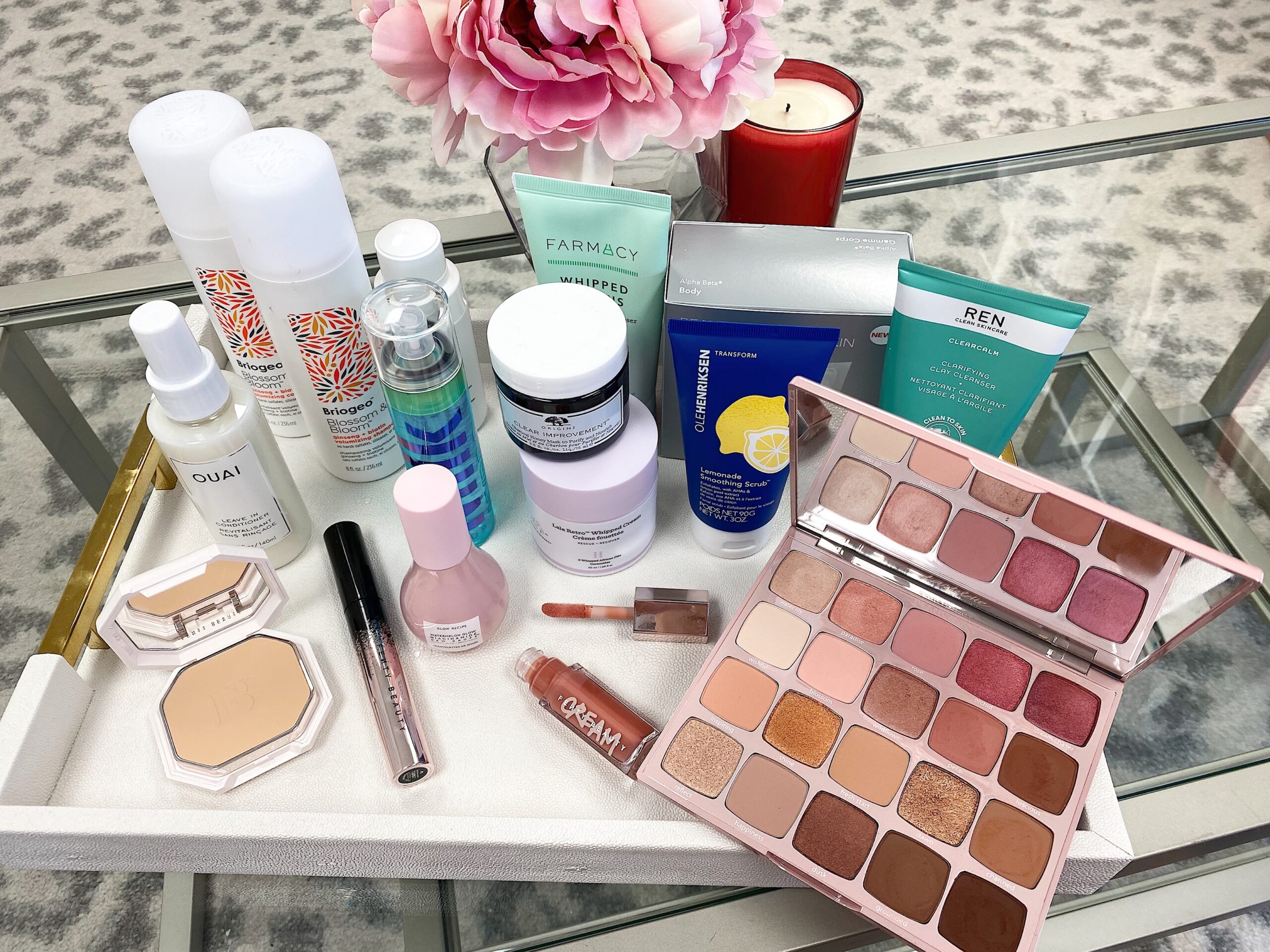 I love trying new products, like seriously LOVE!! So when you guys started asking for more beauty content, I was happy to oblige. I've placed several Sephora orders recently and wanted to share what I bought. Today I wanted to do a January Sephora Haul! Some of these I have already had the chance to test, some are restocks and some are new to me products that I will report back on later. For even more beauty content, head HERE!

January Sephora Haul
HAIR CARE
Let's start with what I now refer to as my miracle

SHAMPOO

&

CONDITIONER

. I used to have naturally thick, full hair – then I got pregnant and not only did I loose a ton of hair, but the hair that remained was SO thin/fine. So I tried this on a whim and after ONE use, my real hair felt TWICE AS FULL! I am sure this is the effects of the volumizing ingredients but I am super excited to see the results of the biotin in a few months!
I also decided to grab this DRY SHAMPOO. It's a charcoal formula and uses as squeeze/poof application rather than a spray. It had amazing reviews so I will report back after I've tried it out for a bit.
Anyone else fall down the TikTok rabbit hole?! @daniawiththegoodhair on there influenced me to try this LEAVE IN CONDITIONER. Her hair is stunning!! I actually bought this HAIR OIL because of her and loved it so much I already bought a second bottle.
SKINCARE
This

LEMONADE SOOTHING SCRUB

has blown me away! It smooths, resurfaces, helps with pore size, dead/dull skin and a ton of other benefits. If you have sensitive skin, I would tread lightly with this product and definitely do a patch test before using to be safe because it's pretty strong.
My biggest secret to clear, smooth skin is the ORIGINS CHARCOAL HONEY mask! Whether you are just getting into skincare or a seasoned pro, this mask is the ultimate mutli-tasker and is like getting the benefits of several different masks all in ONE. The charcoal works to deep clean pores and clear breakouts, while the honey soothes and prevent future ones. If you look back at past BEAUTY POSTS, you will see this has been a long time favorite of mine.
I love this CLAY CLEANSER especially for oily skin. I tend to use this more as a nighttime cleanser to help really rinse the day off and calm any irritation my skin has experienced throughout the day. For morning, I wanted something a bit more moisturizing so I am going to be testing out this WHIPPED GREENS CLEANSER.
Speaking of whipped, this

WHIPPED MOISTURIZER

is another longtime favorite and one of the products I always find myself going back to.
These WATERMELON DEW DROPS had great reviews. They smell insanely good and can be used over or under makeup. I will test them out both ways and report back soon.
Last but not leas for skincare are these BODY PEEL PADS. I have the FACE ones and swear by them so decided to test the body ones out.
MAKEUP
This stunning

EYESHADOW PALETTE

instantly caught my eye. It came highly recommended from several friends and I am SO impressed with the pigmentation so far. The formula for both the matte and shimmer shades is super smooth and very blendable too. It also smells heavenly.
This has been my go to MASCARA for a few months now so I picked up a few more since mine was running low.
I love the original version of this gloss and was so excited to see they came out with the CREAM GLOSS version. Same great formula but with more pigmentation to it.
Another restock was this

SETTING SPRAY

. This is now my 3rd bottle and nothing else has ever even compared. Great for all skin types but especially great for oily skin.
The loose setting powder from this brand is my holy grail so I am so excited to test out their POWDER FOUNDATION.
And last but not least was a restock on my favorite FALSE EYELASHES.
What other products would you like to see me try/test? What was your favorite find from this January Sephora Haul? Let me now in the comments down below.