One of the questions I get asked most is what I use on my hair so today I am sharing with you all my haircare essentials, from products to styling tools and even some new supplements I have been taking to help my hair grow! Full disclosure, I do have hair extensions which makes it even more important to take care of my natural hair and the extensions so that they last longer. #hairgoals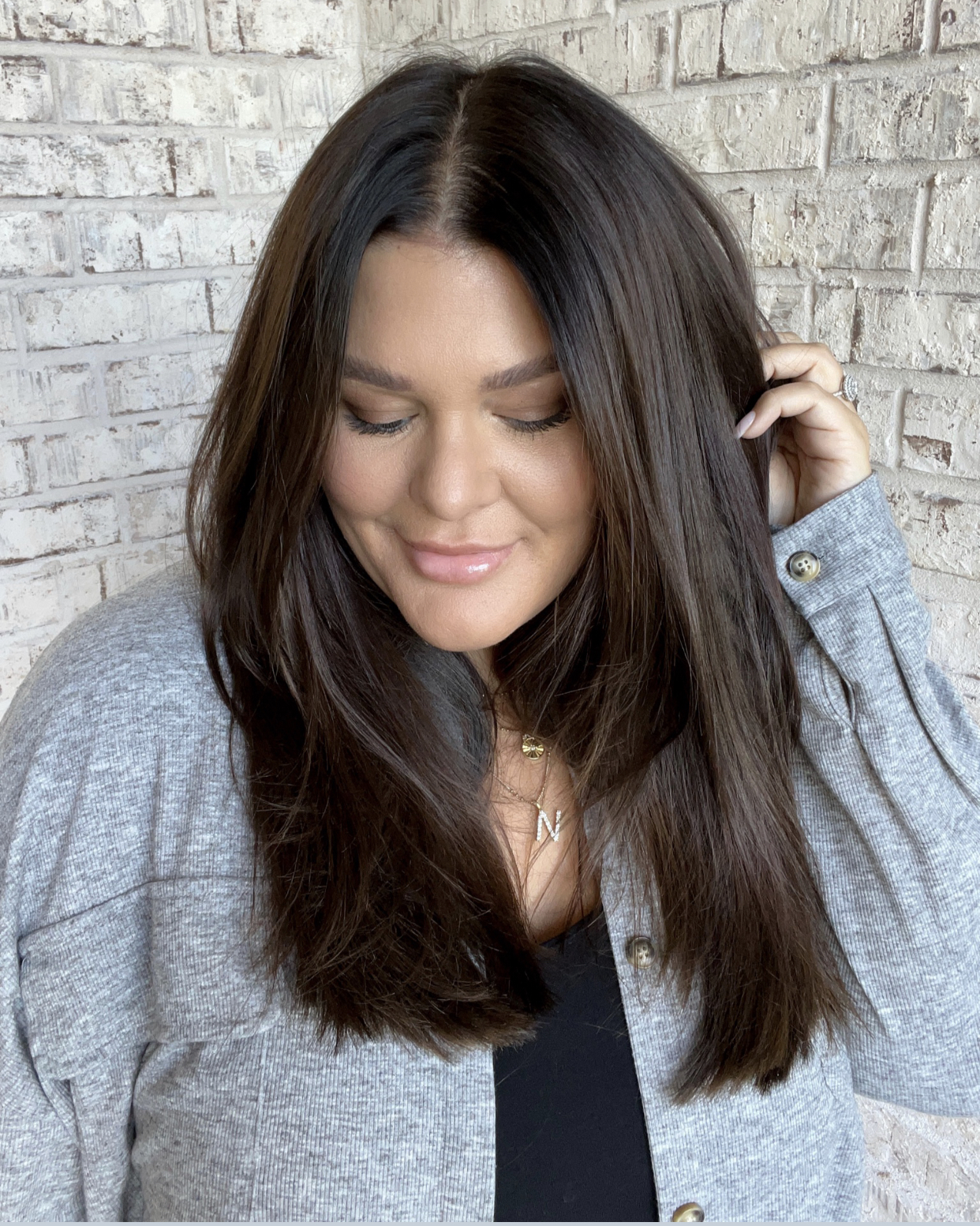 HAIR PRODUCTS
Let's start with the basics. I only wash my hair about 2-3 times a week!
I used to be one of those girls that had to wash it every single day because it would get so greasy but with a little training and a lot of dry shampoo I was finally able to get the grease under control and cut down my wash days.  If you're a greasy hair gal like me then dry shampoo is going to be your best friend!
On wash days I start out using the Briogeo Don't Despiar Repair Shampoo & Conditioner. About once a week or whenever my hair is feeling dry and dull after I wash it I will go in with a deep conditioning hair mask to add a little extra moisture and life to my hair.
When I get out of the shower I always spray my hair with a little bit of leave in conditioner before I go in with my Wet Brush. If you have hair extensions like me then you probably already know you are not supposed to sleep with your hair wet. So, once I get out of the shower I spray my hair with some heat protectant and dry/style it. Once its dry I like to add a tiny bit of hair oil on the ends to get rid of frizz and add some shine.
In between hair wash days or whenever I notice my hair is starting to get greasy I will go in and spray some of my favorite dry shampoo on my roots. Once it sits for a couple minutes I will rub it in with my fingers to make sure I really get all the dry shampoo into my hair. The Living Proof Perfect Hair Day is my favorite dry shampoo because it doesn't leave a white cast or leave my hair feeling gross and sticky.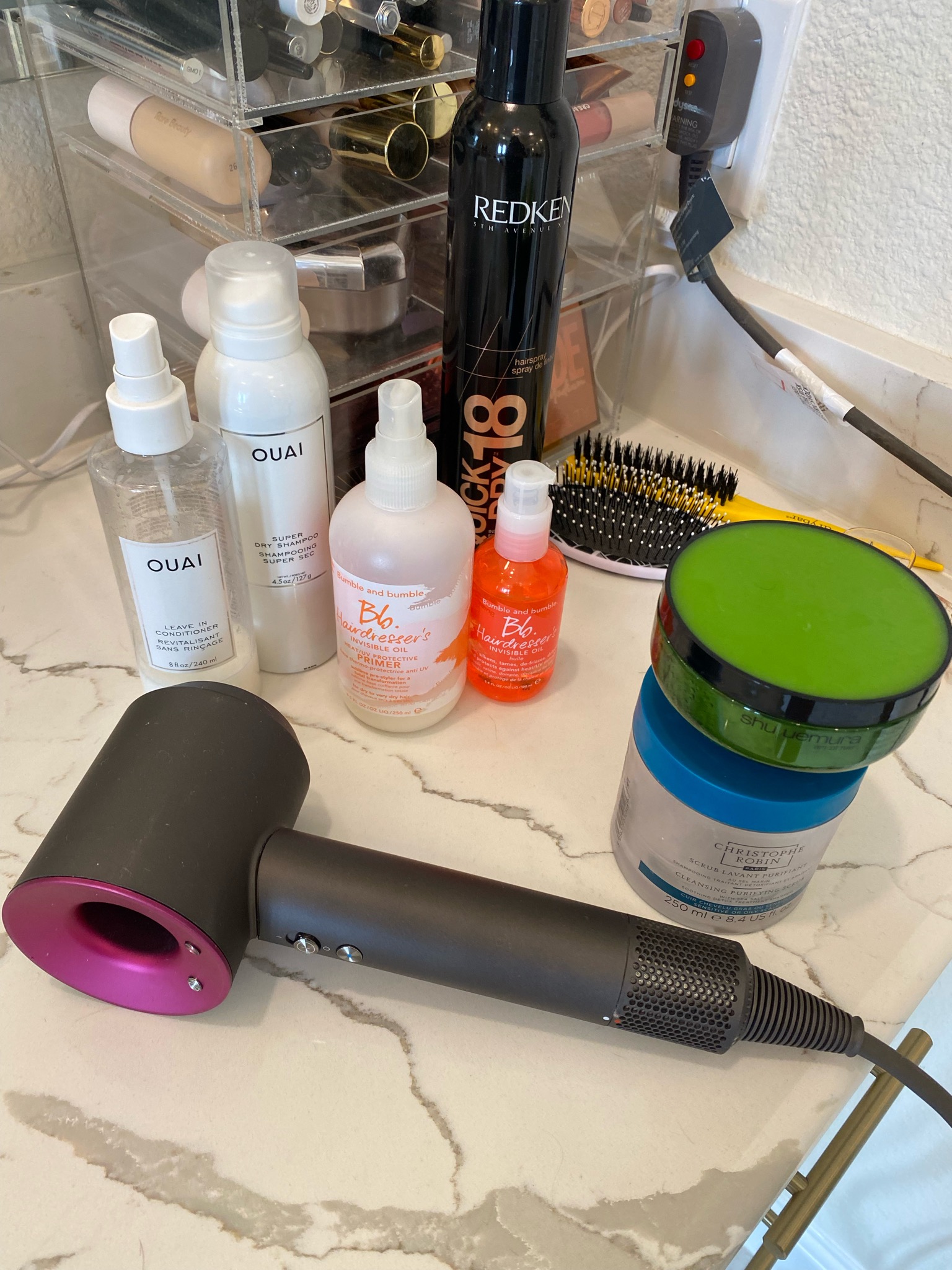 Here are all my must have hair products!
Shampoo: Briogeo Don't Despair, Repair! Super Moisture For Damaged Hair Shampoo
Conditioner: Briogeo Don't Despair, Repair! Super Moisture Conditioner
Hair Mask: Silk Bloom Treatment Mask for Damaged Hair
Leave In Conditioner: Ouai Leave In Conditioner
Hair Oil: Bumble & Bumble Hairdresser's Invisible Oil
Dry Shampoo: Living Proof Perfect Hair Day Dry Shampoo
Heat Protectant: Bumble & Bumble Hairdresser's Invisible Oil Heat/UV Protective Primer
Shop The Products

HAIR TOOLS
Good hair tools are an absolute must!
Using certain styling tools or tools that are too hot can cause a lot of damage to your hair. So for me I tend to splurge on pricier hair tools to keep my hair happy and healthy. I use the Dyson Blow Dryer and absolutely love it! It dries my hair super quick and does not damage it at all. When I would use other blow dryers I would noticed my hair would feel super dry and frizzy after drying but when I dry my hair with the Dyson it always comes out feeling nice and smooth.
I also have and love the Dyson Airwrap. The Airwrap is great for getting those loose curls and leaves your hair feeling smooth and silky. My hair literally looks like like I just got a blowout from the salon after I use my Airwrap!
When it comes to curling irons my all time favorite is the T3 Singlepass with a 1.25″ barrel. It curls my hair super fast and the curls last for days! They have a bunch of different barrel size options and if you're someone who like to change up the size of your curling wand they have interchangeable wands so you don't have to buy multiple different curling irons to get different size curls.

Shop The Products

HAIR SUPPLEMENTS
Healthy hair starts from within so I recently found Nutrafol hair vitamins and my hair has never looked or felt so good!
I have been taking Nutrafol for a couple months now and have noticed my hair is getting thicker, stronger and longer. I have also received so many compliments on how healthy and shiny my hair looks.