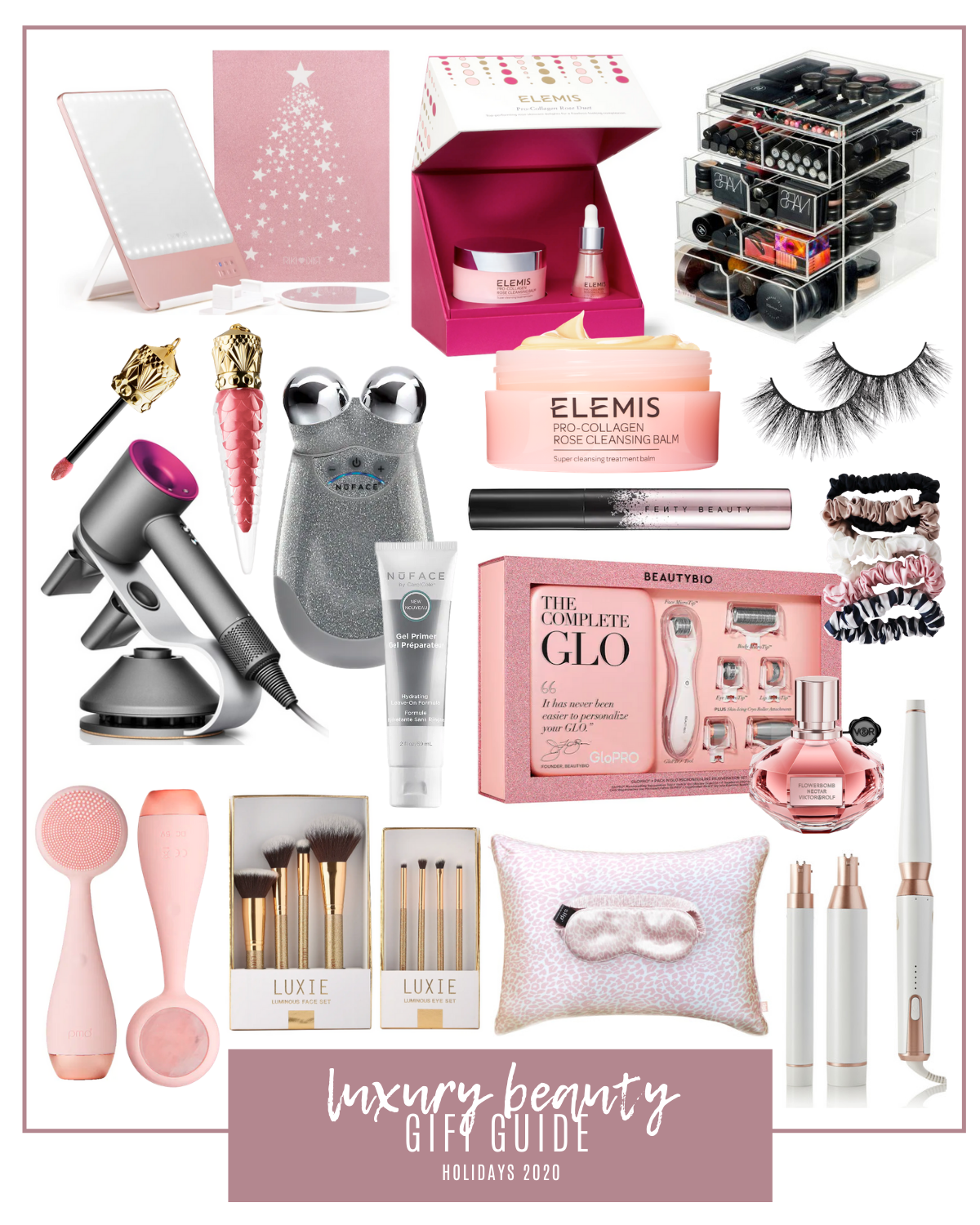 Today I wanted to share an ultimate gift guide for beauty lovers. These are all products I personally own and love and a few that are on my Christmas wish list – (hint hint hubby!). Everything is linked on the collage and down below. And to keep this post from being 5 miles long, I am going to keep it to my TOP 5 gifts!
1. First up for today's luxury beauty gift guide is my number 1 recommendation for any beauty lover. The RIKI SKINNY MIRROR has been one of my most prized posessions for quite some time. It's the perfect mirror for everything from makeup to skincare, has multiple light settings, bluetooth, a phone holder and a magnifying mirror too. Their entire site is 25% off right now too.
2. This ELEMIS PRO COLLAGEN ROSE KIT is actually a gift I bought for myself. I am obsessed with the oil and the cleansing balm and this kit saves me almost $50 off retail. Great for anyone who wears makeup and wants smooth, glowing skin. The balm makes your makeup slide right off so easily and leaves it feeling so smooth. The oil is perfect for some overnight rejuvenation and I also apply it right before my foundation for the ultimate glow!
3. Think of this like a workout for your face. It tightens and tones and is basically magic. The NUFACE DEVICE is something my realtor raved about and let me tell you, after using it just a few times, it is worth every single penny! A little pricey but will save you thousands at the med spa!
4. The T3 MICRO WHIRL TRIO is the only thing I use to curl my hair and absolutely cannot live without. Nothing else makes my curls look so good or last so long. This set has interchangeable attachments to create tons of different hairstyles. You can also snag it right now for 25% off!
5. This CLEAR ACRYLIC ORGANIZER is the perfect gift for any beauty buff. I have had mine for years and still love and use it to this day. It keeps everything organized so beautifully and is a great display piece too. I use mine to store makeup, skincare, brushes and skincare devices too.
Which one of these luxury beauty gifts is your favorite? Let me know in the comments down below!