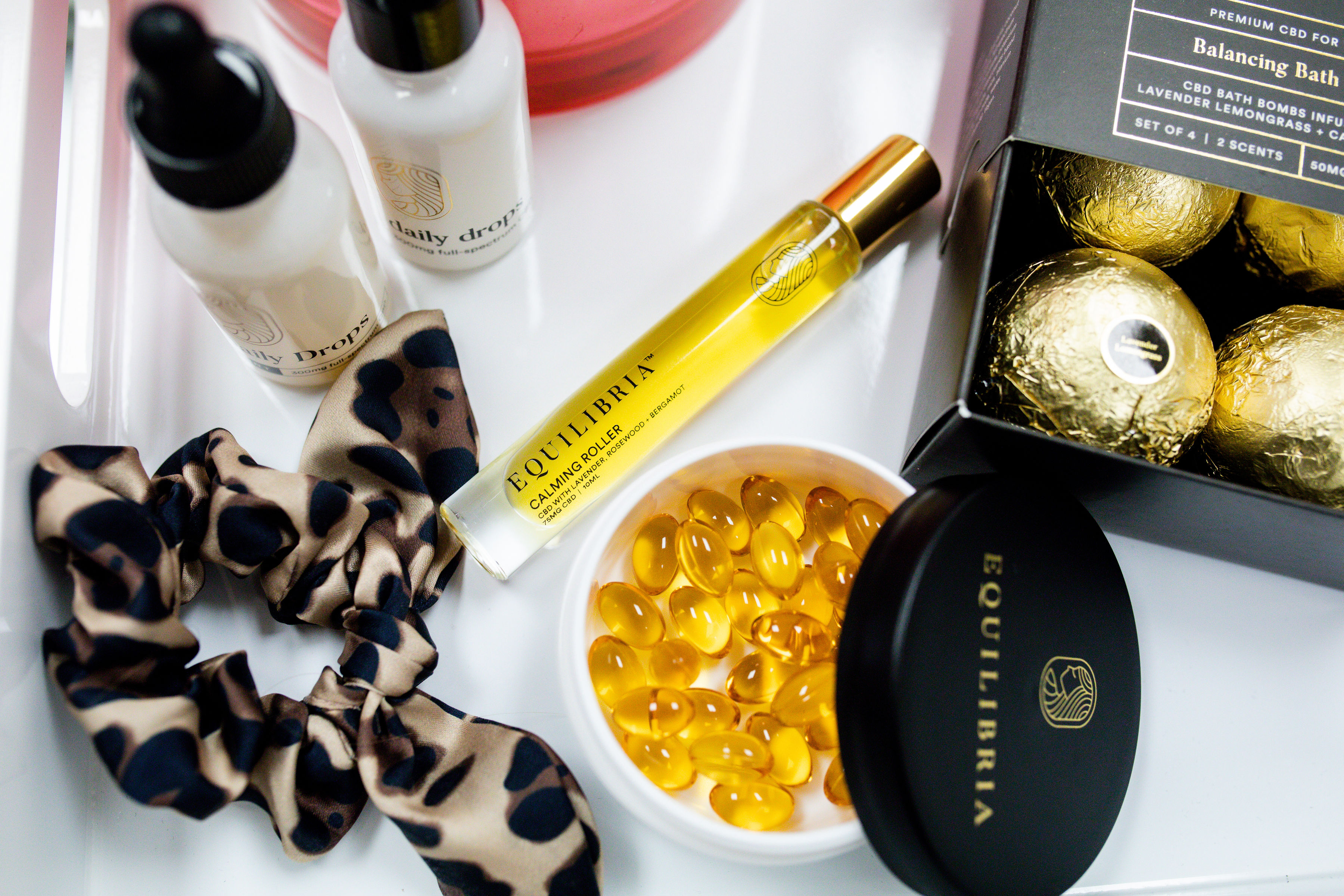 So a few weeks back, I shared a picture of my weekly self care routine on IG stories that sparked a ton of DM's about the CBD products I use. I started taking Equilibria CBD about two months ago to help with my anxiety and stress throughout the day, and it has been a HUGE game changer for me!! Today I wanted to answer all of your questions, including what my CBD daily dosing routine is. And since I quickly hit the character limit for captions on Instagram, this was the perfect place to share.
Let me start by answering one of the most frequently asked questions…
Does it get you high?
No. And it won't make you feel lazy, sleepy or weird in any way. I totally have to admit, when CBD first started to become popular, I had no idea there was a difference between CBD and THC. In fact, I instantly brushed it off thinking…"I have a job, I have a baby, I have responsibilities, I can't be high!" But here's the facts:
CBD is a natural ingredient found within industrial hemp flowers. It is clinically proven to impact mental and physical well-being, when taken properly and consistently. And yes, CBD is completely safe and legal in all 50 states. It is a powerful health agent, but there is no discernible impairment (NO high!).
Does it help with stress & anxiety?
Absolutely! I suffer from both as well as sleep issues and taking Equilibria has made an incredible difference. Prior to taking CBD, I noticed I was constantly on edge. Even the smallest things would set me off. I would get insanely worked up to the point of needing to isolate myself. Loosing my temper easily, getting so overwhelmed I just completely shut down, letting minor inconveniences ruin my entire day. Not having enough patience with my daughter. Any of this starting to sound familiar?
Since I started taking Equilibria, I just feel so much more balanced! I am more calm, level headed, I feel way more patient and I am sleeping SO much better which in a circle type effect, I am sure has also helped with my other issues.
What products do you use?
DAILY DROPS – great in small doses for energy & focus, larger doses at bedtime can be sedative for some. Onset is faster (10-30 min) while they fade away quickly (2-6hrs). They're great for in-the-moment stress relief.
SOFTGELS – great to use as a preventative. Recommended with food, specifically a healthy fat to help them absorb better. Onset is slower (1-2hrs) but they release more slowly (6-8hrs). These are also great for sleep support!
DYNAMIC ROLLER DUO – the Calming Roller is great to use at bedtime to help you relax. The Energizing Roller can be a great tool to use for lighter headaches and that mid day slump!
How much do you take?
Okay, so I am going to detail out my personal dosage schedule for you guys below. BUT – this is one of the many reasons I LOVE Equilibria. When you make a purchase, they actually provide FREE CONSULTATIONS with a specialist to find the perfect products and dosages just for YOU!
My specialist was Maia – seriously LOVE her!  It was just like talking to a girlfriend. I told her about my daily routine, my struggles, my goals. From there, she put together a CBD daily dosing routine just for me. And when I noticed I was finally sleeping better but still had some trouble staying asleep, I scheduled another consult and she helped me find the perfect solution.
My CBD daily dosing routine:
7:30 am: I eat a yogurt with some granola and take a daily soft gel. The fat in the yogurt will help the CBD absorb better. Avocado toast or banana with peanut butter are some of my other favorites with healthy fats!
12:00 pm: I take a full dropper of my daily drops, under my tongue for 60 seconds. This is the time I usually hit a mid day slump and stress starts to really pile on. It doesn't make me tired or "out of it" just make me more calm.
6:00 pm around dinner:  I take a half dropper – under my tongue for 60 seconds – this helps me me start to wind down for the night.
10:00 pm: I take a daily soft gel extra strength about an hour before I go to sleep – the softgels and time released and not only help me fall asleep but stay asleep too. I have pretty moderate anxiety but major sleep issues, which is why I only take the extra strength at night. Right before bed is is also a great time to use their calming roller.

If I am trying to fall asleep quickly or just had an extra crazy day, I will take a half dropper under my tongue for 60 seconds before bed.
What are your CBD tips:
Stick with it. It can take 3 months to feel the full effects!
Chill your Daily Drops in the refrigerator to cut down on the flavor.
It takes time…please try any routine with 5-7 days of REAL consistency!
Why did you choose Equilibria?
Equilibria was created for women by women. They understand our bodies are different, from changes in our cycles, to childbirth, menopause and everything in between. It's also super important to me that I know exactly what's going into my body. I don't want fillers, fluff or anything that could be dangerous in any way. Equilibria's premium CBD is fully traceable from their farm in Colorado right to my doorstep. Their bioscience team has over 30 years of experience and have created a line that features 3-5 times more cannabinoids & terpenes than most of the products on the market (the beneficial parts of the plant). They never use stalks, stems, seeds, or isolates.
How can I order? 
It is so easy to order – click

HERE

You can purchase items individually, or in bundles. I signed up for THIS one.
Use the code: CURVESTOCONTOUR for 15% off.
If you have any other questions I didn't cover, feel free to ask me HERE!