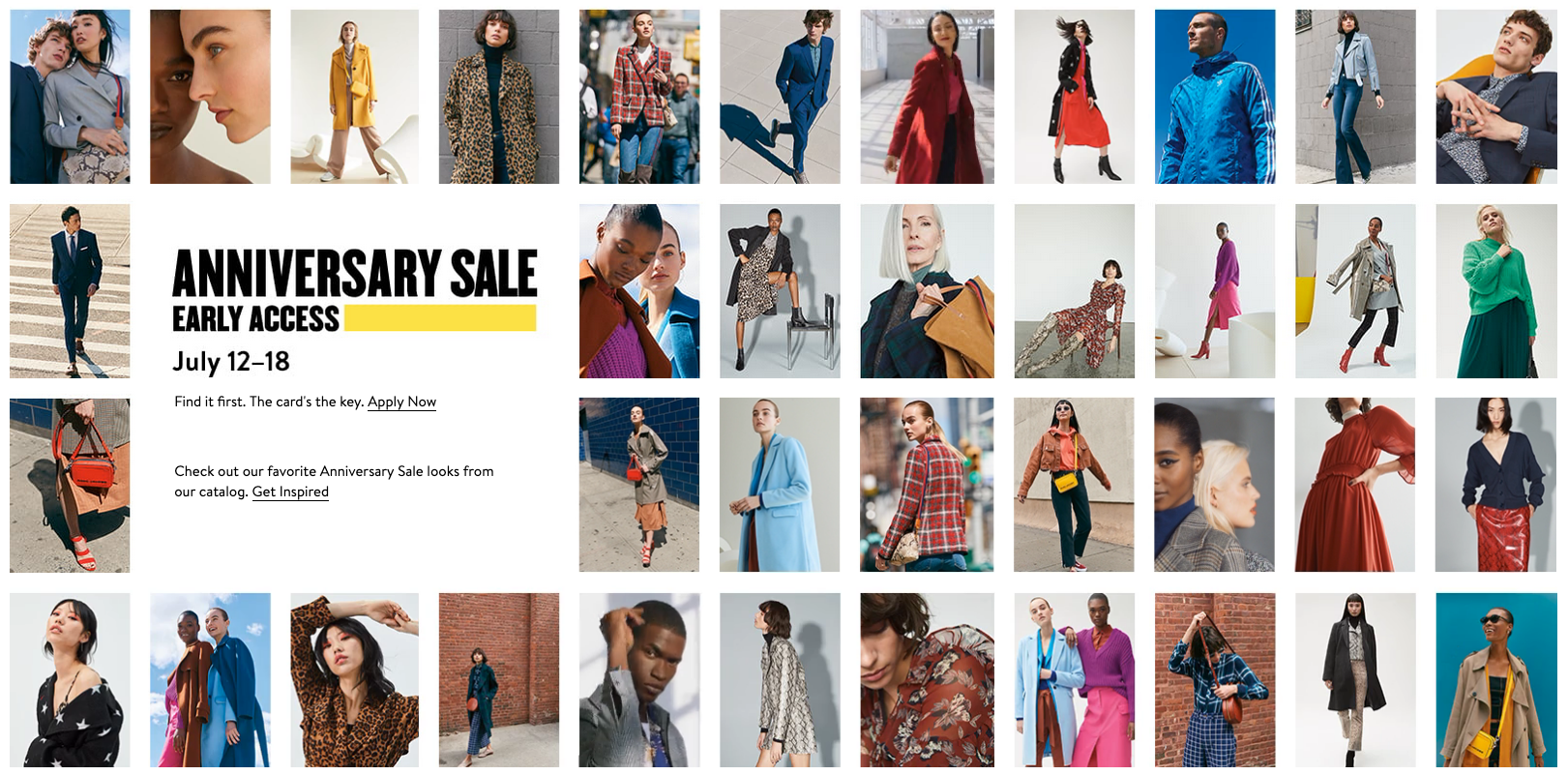 What is the Nordstrom's Anniversary Sale?
So this is what I would refer to as a "backwards" sale. Typically items are listed at full price, and then go on sale down the line in an attempt to clear them out for new styles. With the Nordstrom's Anniversary Sale, all the items are actually brands new releases for fall that are listen initially at the sale price, then go up to full price once the sale it over. The sale gets bigger each year and after reviewing over 210 pages of sale items, I am so excited to say this is going to be the biggest one yet. And with an amazing plus size selection too!
When are the sale dates?
ICON MEMBERS
Tuesday, July 9th, in-store only.
ICON & AMBASSADOR MEMBERS
Wednesday, July 10th & 11th, in-store only | Thursday, July 11th, sale available online at 12:30pm EST!
EARLY ACCESS – for all Nordstrom Card Holders
Friday, July 12th at 12:30pm EST in-store and online through Thursday, July 18th, 2019
PUBLIC ACCESS – for all non-Nordstrom Card Holders
Friday, July 19th [time tbd] through Sunday, August 4th. Prices go up August 5th.
How can I get early access?
You can become a Nordstrom Cardholder.
Why should I apply for Nordstrom card?
Besides racking up points that will earn you money off future purchases, it also gives you early access to the sales. Last year I didn't have early access and missed out on some really great deals. Plus right now, when you sign up for a Nordstrom Credit Card through July 10th you'll receive a $60 Nordstrom Note (gift card). When shopping, you will receive 3 points per $1 while shopping at Nordstrom, Nordstrom Rack, Trunk Club, and HauteLook. The more points you earn, the faster you will receive notes. There is NO annual fee and they offer 24/7 customer service.
What else do I need to know? Tips + Tricks
A few things, actually!
If you want it, GRAB IT! Items sell out fast, and they usually do not restock until after the sale is over. I recommend buying everything you think you want and then returning anything that doesn't end up working out later. The same applies when trying to figure out what size to get, if you aren't sure, grab two sizes and return the one that doesn't fit. Nordstrom's has an amazing return policy.

Be Prepared – I start making a list of items I want prior to the sale. This serves several purposes. It gives you the opportunity to have an easy to use "guide" for shopping the sale so you aren't clicking like a mad woman trying to find all the things you wanted. It also makes sure you have a general idea of your spend and budget so you don't unexpectedly break the bank. This list is also a great way to make sure you are getting everything you need to complete your wardrobe for fall. I usually try to do a nice mix of tops, bottoms, activewear, shoes and of course accessories too.
Shop Online – While I have never been a fan of in-store shopping to begin with, I especially avoid stores during big sales. Another great thing about online shopping, besides fighting the crowds, is you wont have to run around the store searching for a particular item or size. Online shopping is just SO much easier and more convenient #nopantsrequired

Remember Gifts – If you know me, you know I love being SUPER prepared and gift giving is no different. The sale is a great time to start your holiday gift shopping or even just gifts to keep on hand for birthdays, special occassions, etc. I love buying the Barefoot Dreams blankets because they are such a luxurious gift and honestly, there isn't a single person I know who doesn't love a soft blanket.
What's the best way to shop?
I know some people prefer shopping through an easy to read blog post, while others like strictly pictures or the LTK app. I totally understand and want to make sure I make this shopping experience as fun and user friendly as possible for you guys. I will have ALL of my sale pics shoppable several different ways:
* this has EVERYTHING from all categories conveniently listed on one page and in my opinion makes shopping the absolute easiest possible.
* found in the Menu bar of my site; this just breaks out everything into categories such as tops, shoes, beauty, etc.
* I will be posting IG stories of my personal top picks and high sell out risk items so guys can snag them before they sell out.
* this will be more collages of categories and individual items but will include EVERYTHING from IG stories.
Also, I know you guys have been loving my try-on's lately. I am super new to doing them so I truly appreciate how sweet you guys have been. I obviously am not the best at it but I am getting better each time. As they say, practice makes perfect. As soon as I get my order on Monday, I will be doing a big try on and posting some styled looks on LikeToKnow.it for you guys too so you have them in time for public sale date of July 19th!
I hope you guys have all the info you need now for the sale! If there's any other questions you have or specific items you want to shop for, you can always shoot me a DM on Instagram, I would love to help you out!