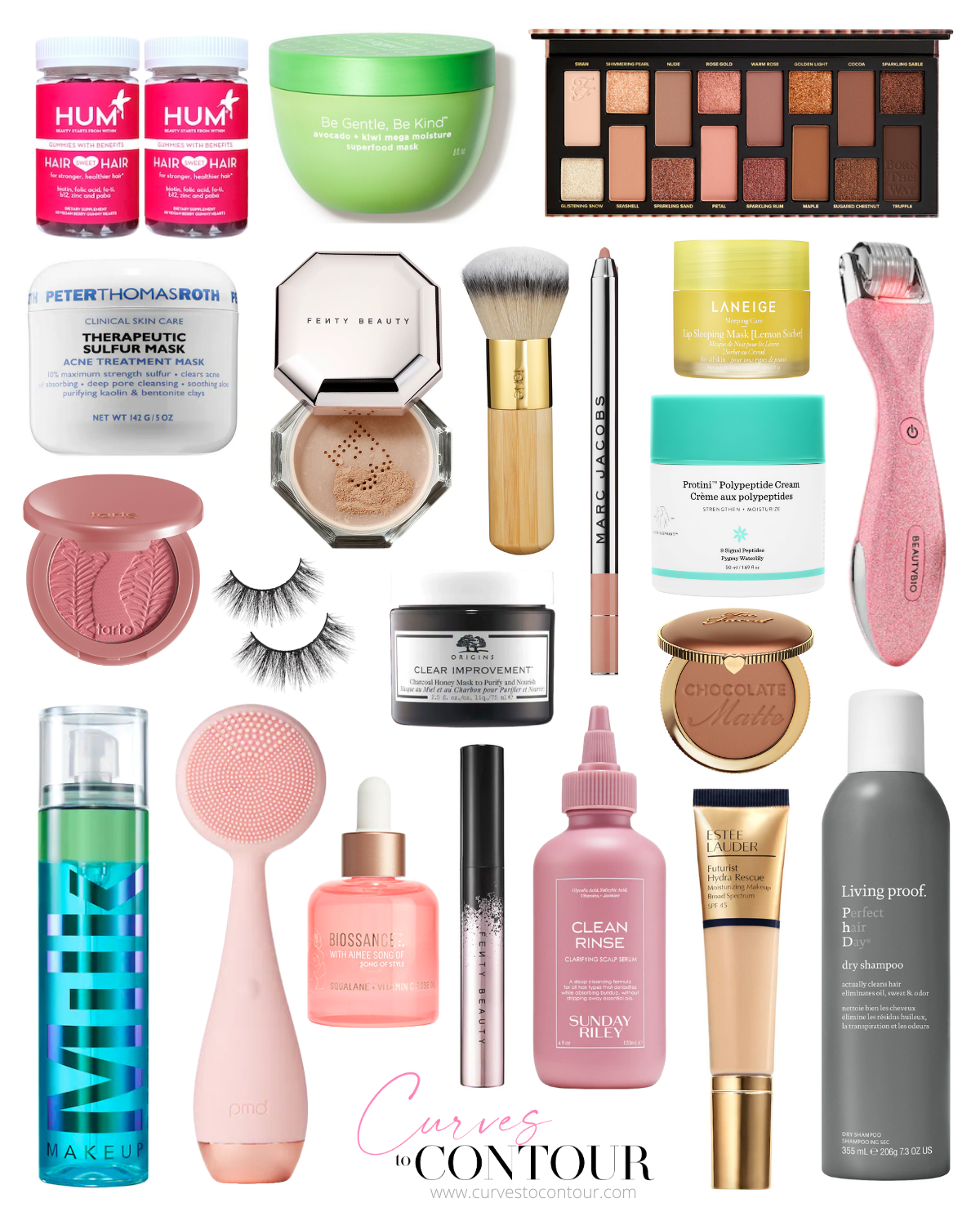 It's that magical time of year again!! No, not Christmas, but close!! It's the SEPHORA HOLIDAY SAVINGS event.
You can save 10-20% OFF your entire purchase when you use code HOLIDAYFUN. It is open to all levels of the Beauty Insider program, their free rewards system. You just have to sign up – it's totally free.
I apologize in advance because I have a LOT and I mean A LOT of  recommendations but I really wanted to give you guys some options and make sure we covered all the bases. I hope you enjoy and HAPPY SHOPPING!!
VIB ROUGE – 20% Off October 30 – November 9th
VIB – 15% Off November 3rd – November 9th
BEAUTY INSIDER – 10% Off November 5th – November 9th
SEPHORA HOLIDAY SAVINGS EVENT
Let's start with my favorite new product. The MILK HYDRO GRIP SETTING SPRAY! I bought it after falling head over heels in love with their PRIMER and let me just say – WOW! My makeup has never stayed put so well,  it even survived a huge rainstorm.
Speaking of makeup, if you have been on the hunt for a new foundation, let me introduce you to the FUTURIST HYDRA RESCUE FOUNDATION.  It gives the amazing coverage of DoubleWear but with a more natural and glowy finish. I also recommend applying it with this FOUNDATION BRUSH for the most beautiful airbrush finish!
Not sure what shade to get? Use the SHADE FINDER!

What I use on my hair is one of the biggest questions I get asked. And while I usually stick to the same few products, after hearing so many rave review about this SUPERFOOD HAIR MASK, I just had to try it. After using it only once, my hair was so much softer, shinier, and way more manageable. The avocado kiwi blend also makes your shower smell like a smoothie!
You know that feeling of a fresh salon wash and blowout? That is exactly what this SCALP RINSE SERUM does. It helps with buildup, excess oil, dead skin and pollution for a healthier scalp and refreshed hair! My scalp had gotten super oily and itchy, it was driving me nuts. One quick rinse with this and I was a whole new woman! My scalp has seriously never felt so fresh.
This NATURAL NUDES EYESHADOW PALETTE is what I use pretty much every time I do my makeup. It's the perfect mixture of both matte and shimmer finishes and hues to create pretty much any look you are going for. From soft and natural to bold and showstopping, this palette really does it all. The formula is also super pigmented and easily blendable for seamless look.
I am currently on my 3rd jar of this BIOSSANCE VITAMIN C OIL and have no plans of switching anytime soon. It has made my skin so much brighter, softer and more supple too. My makeup also applies SO much better when I use this.
The LANEIGE LIP MASK is something I have been using for years and trust me when I say nothing else even compares! It can be worn as both an overnight lip mask or applied during the day as a lip balm. I keep jars of it literally everywhere and LOVE the new LEMON flavor.
As someone with a naturally oily scalp and roots, I have tried just about every dry shampoo known to woman. The PERFECT HAIR DAY DRY SHAMPOO is the one that I always find myself going back to. It instantly gets rid of my oily roots and leaves my hair feeling fresh and clean without any residue or buildup. This HOLIDAY KIT is a great value.

My biggest secret to clear, smooth skin is the ORIGINS CHARCOAL HONEY mask! Whether you are just getting into skincare or a seasoned pro, this mask is the ultimate mutli-tasker and is like getting the benefits of several different masks all in ONE. The charcoal works to deep clean pores and clear breakouts, while the honey soothes and prevent future ones.
Another mask favorite is the PETER THOMAS ROTH SULFUR MASK. It's perfect for more oily skin and really helping minimize pores.
The absolute best bronzer! The CHOCOLATE SOLEIL BRONZER is one of the best formulas I have come across. It's rich, packed with pigment and blends out so beautifully. Available in three shades, long wearing, matte finish and made with real cocoa powder – I can practically smell it as I am typing this.
When it comes to beauty tools, I have two ride or die products. First is the PMD CLEAN ROSE QUARTZ. One side is silicone bristles to deep clean and the other a headed rose quart massager to help your oils/serums absorb and it helps with lymphatic drainage too.
The other is the BEAUTYBIO ROLLER. It's basically an at home microneedling device that helps get rid of texture, scars, fine lines, wrinkles and just basically gives you that beautiful skin we all strive for.
Looking for more beauty? You can check out my last Sephora Sale post HERE.
What are you going to grab during the Sephora Holiday Savings Event? Tell me in the comments down below!