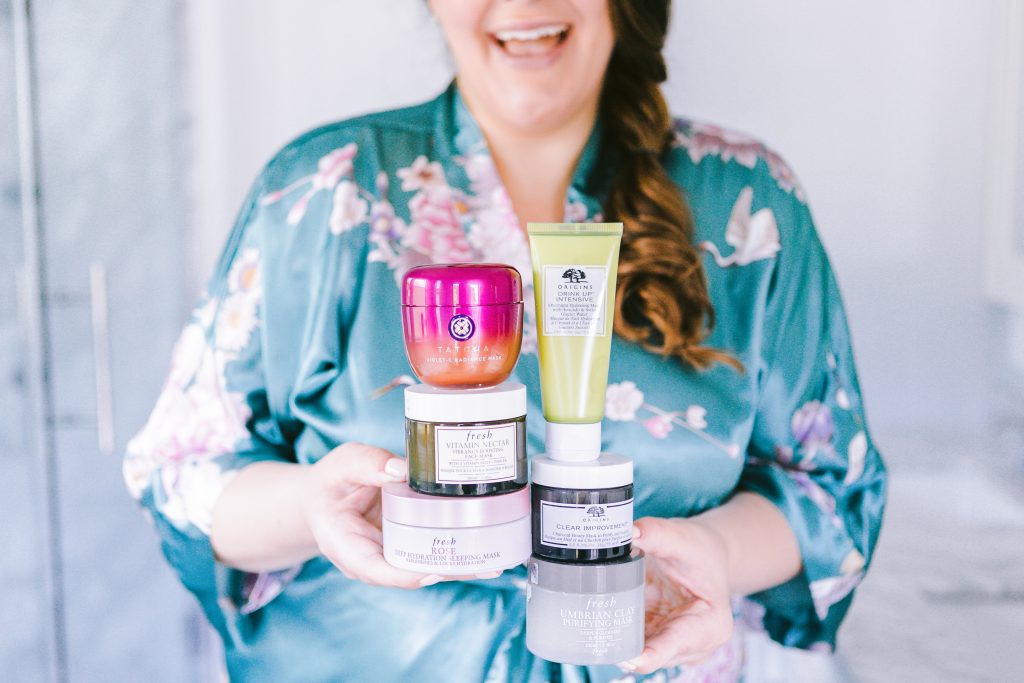 What are the best Skin Saving Face Masks?
It's no secret that I am OBSESSED with skincare. When I first got into makeup, I couldn't understand why my skin never looked smooth no matter what primer I tried, or why my foundation always seemed to enhance my pore size. A whole lot of esthetician appointments and several skincare routines later, I finally was not only looking good in my own skin, but feeling good in it too. Now, I know everyone is going to ask, and do not fret – a FULL and in depth start to finish skincare routine is coming. I promise! But for today, I wanted to share my favorite skincare products of all time – face masks!
I am not exaggerating when I say that I have DRAWERS full of face masks. All different brands, formulas, shapes, sizes and type under the sun. Much like with cupcakes – when it comes to face masks, I definitely don't discriminate. But I obviously have my favorites. So today I rounded up my TOP 6 favorite face masks.
Number on is the ORIGINS CLEAR IMPROVEMENT CHARCOAL HONEY MASK. I actually just stocked up on this during the recent SEPHORA sale because it is my number one favorite and most used mask. It smells absolutely amazing – which is a huge plus. But what I absolutely adore about it is that it is the ULTIMATE multi-tasker. The bamboo charcoal thoroughly cleanses and draws out deep dwelling pore cloggers while the golden wildflower and honey nourish the skin. If you are looking for a truly transformational mask and don't want to have to buy multiple products, you NEED this!!
The FRESH UMBRIAN CLAY MASK is a huge staple in my vanity and the perfect everyday mask. It's also my number 1 go to when I am breaking out or feel a break out coming on. It's a mineral rich clay formula that helps minimize pores, soothes skin and has astringent properties that are great for fighting acne and blemishes. I also love "binge masking" with this one. Any time I have a big photo shoot or event coming up, I will use this mask EVERY NIGHT for 4-5 nights prior. It ensures my skin looks and feels amazing and prevents any "sneak-attacks"
The new ORIGINS DRINK UP HYDRATING AVOCADO MASK has been on repeat in my house. I love how insanely soft and moisturized it makes my skin. I've also been using it as a makeup primer with my drier formula foundations. What's really been amazing to me about it though is it's redness reducing abilities. My hubby has a touch of rosacea, with one particularly bad spot on his cheek. We decided to do a couples "netflix & chill" night last Saturday complete with face masks*  (he would seriously kill me if he knew I posted this online) and I applied this one all over his face. When he washed it off 30 minutes later, his redness had vanished and the super bad spot was almost completely invisible, it was INSANE!
Full disclosure – I originally purchased this mask because I loved the bright purple color. But after letting it sit in my mask drawer for a few weeks, I finally busted it out one night and instantly fell in love. The TATCHA VIOLET C RADIANCE MASK is made with two types of vitamin c and AHAs from seven fruits. It helps with dullness, uneven texture, dark spots, fine lines and more. Another amazing mutli-tasker. I will say though, my favorite feature of this mask is the brightening effects. I honestly never realized how dull my skin was until I started using this.
For a girl who was once insanely oily, I am not a more normal/combo skin type thanks to my skincare routine. But when I started getting a little too dry from the harsh weather, I decided to try the FRESH ROSE DEEP HYDRATION SLEEPING MASK. It was the ultimate skin savior! It's a two step mask that delivers continuous hydration overnight. It really locks in moisture and makes my skin feel insanely soft and supple. I will often use this by itself when I need a little skin pampering. But I also LOVE applying it after a heavier duty drying or clay type mask. Also, PSA – if you ever get a sunburn on your face – use this and by morning it will be almost completely gone.
Last but certainly not least is probably the coolest formula mask ever. The FRESH VITAMIN NECTAR FACE MASK is what dreams are made of. It smells like walking through an orange grove . Totally not important, but it kinda makes me wanna eat my own face. Anyway…this one is made from 50 percent crushed citrus fruit which gives it a bit of a chunkier texture. The texture actually provides for a nice scrub that in turn helps the mask penetrate deeper into the skin. It's great for not only making skin look brighter, but for helping uneven skin tone and unclogging pesky pores.