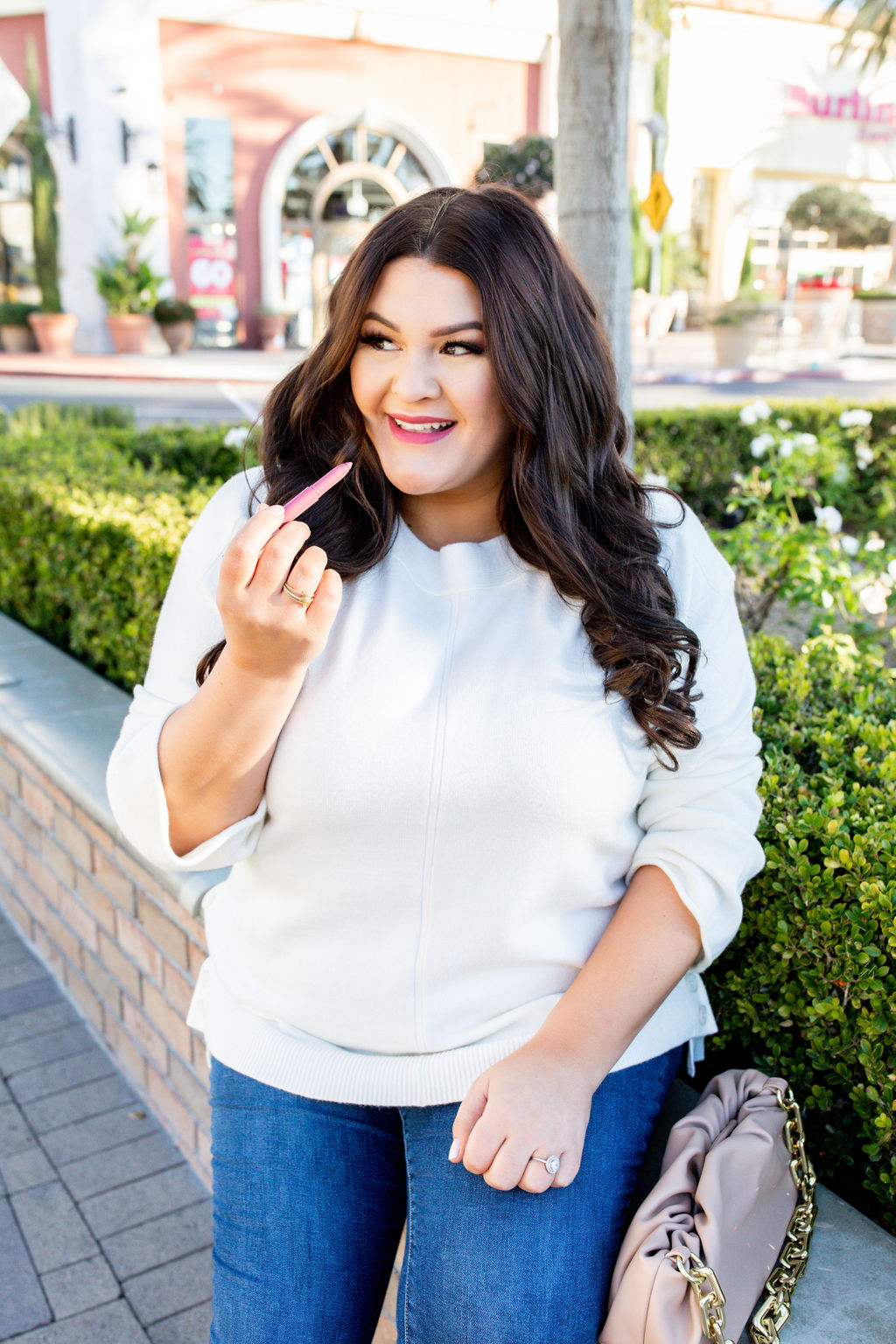 We all know I love a good raid through the makeup department at the drugstore and today, I am sharing the best drugstore beauty products & gift ideas for beauty lovers from WALMART ! Not only do they have great prices, but their selection continues to get bigger and bigger. With a huge variety of brands and products, it's an easy one stop shop for everything from foundation to eye shadow and brushes too! I even found a few hidden skincare gems. And for the gifts, most of these are eligible for FREE next day or 2-day shipping as well as in store pickup!

GIFTS FOR THE BEAUTY LOVER

ORGANIZER – this clear acrylic organizer is every makeup lovers dream. Not only does it keep everything tidy, but it makes a gorgeous display piece too. It's also a total steal at only $35.
HOT ROLLERS – I used to use hot rollers as a teen and when I saw this set at Walmart, I couldn't resist grabbing it. These give my hair SO much volume and actually save me time getting ready. I put them in, do my makeup, then pop them out and I am ready to go!
SKINCARE FRIDGE

– this little skincare fridge is perfect for storing facial rollers, eye creams and gel patches and even face masks. Comes in a few different colors and a great gift for any beauty lover!
FOOT SPA – the perfect gift for someone who deserves a little pampering. This self heating and bubbling foot spa is under $20 and has ALL the bells & whistles. It cleans, massages, scrubs and even has a built in diffuser.
FACIAL STEAMER & BRUSH – everything a gal needs for the perfect at home facial!
BEST DRUGSTORE BEAUTY PRODUCTS

PRIMER

– is the secret to that glow from within makeup finish we all lust after. This one not only brightens, but really provides a smooth surface for your foundation and is comparable to several of my higher end primers! It also has a light, fresh scent to it that I really like.

EYESHADOW PALETTE – No matter the season, a good neutral eye shadow palette is always in style. It has such a great blend of both matte and shimmer finishes that can be used to create tons of different looks whether you are looking for that classic "no makeup makeup look" or a sexy smokey eye. It has great pigmentation too! For an extra pop – try THESE!
MAKEUP BRUSHES

– by far the best affordable makeup brushes I have ever used, so it's not surprise I feature these in pretty much every affordable beauty roundup.
MASCARA – the best drugstore mascara you will ever use. I say that with the utmost confidence after having tried what seems like hundred of different ones. This set includes the lash primer too and together they give you that fluffy false lash look without all the muss and fuss.
BRONZER

– like the name suggests, this bronzer is as smooth and creamy as butter. It blends out like a total dream to give you the most gorgeous looking sun kissed glow. It also smells like a tropical drink!
HIGHLIGHTER – this is the only drugstore highlighter I absolutely swear by. It gives that gorgeous pigment packed glow. Comes in a few different shades but Molten Gold is my personal fave.
LIPSTICK – I wanted the perfect berry colored lippie for the holidays and this one in the shade "Stay Exceptional" is absolutely gorgeous. It's long wearing and I love the super pigmented, creamy formula.
EYEBROW PEN – this one has little fibers in it to create natural, full looking brows super quickly. For something more precise and a little more "pro" looking, I also love the BROW ULTRA SLIM.
SETTING SPRAY

– is the key to long lasting makeup. This one is not only affordable but works like a total dream. Really helps to give your makeup that flawless airbrush finish.
CETAPHIL CLAY MASK

– this mask is by far the best drugstore skincare product I have ever tried. Especially for my fellow oily skin and large pore girls, this is a total game changer. Not only helps clear up existing breakouts & blemishes but prevents future ones too!
What is your favorite drugstore makeup or beauty product? Let me know in the comments! You can also check out more of my favorite beauty finds HERE!
Thank you to Walmart for sponsoring this post!