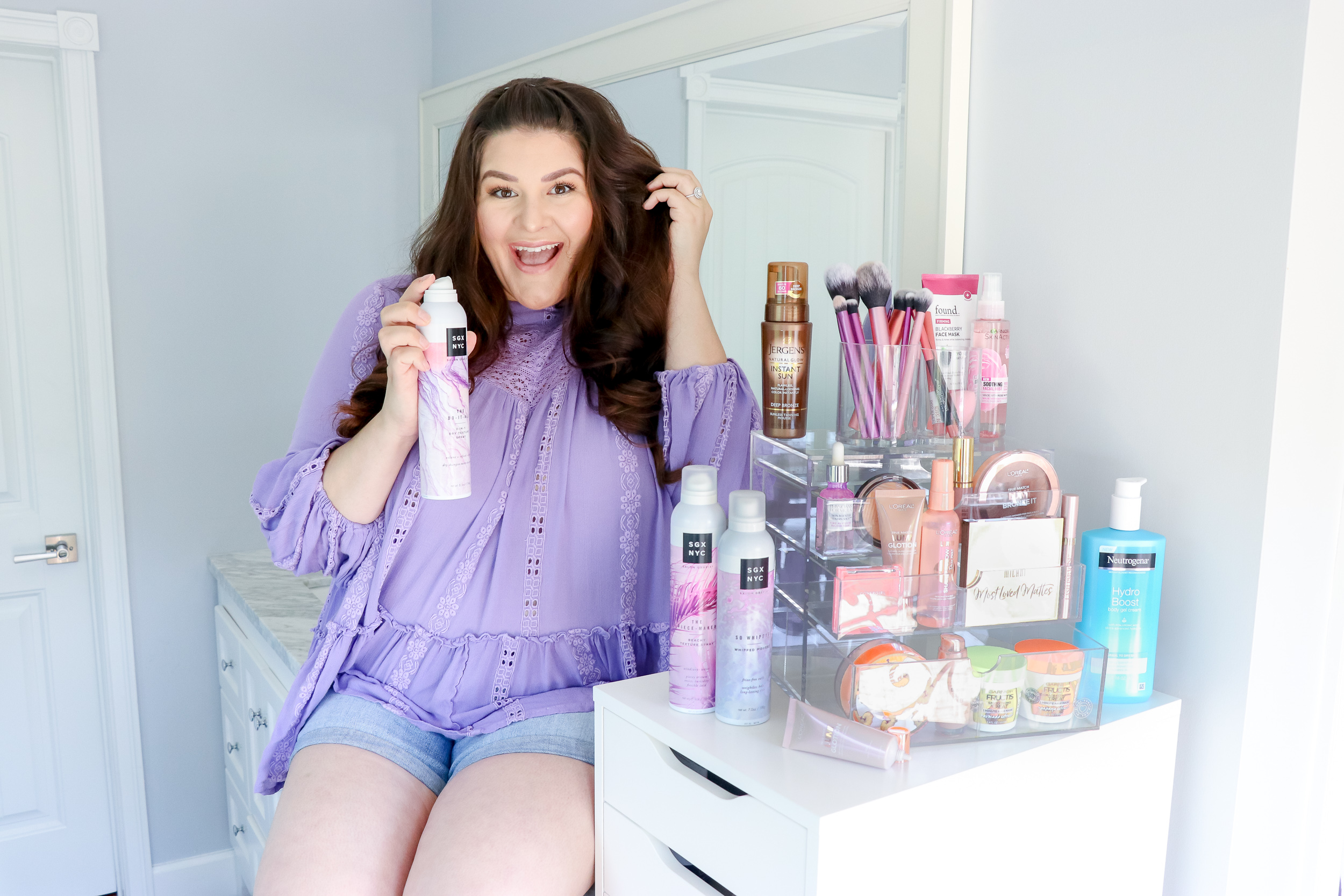 During my last trip through the Walmart Beauty Department, I found so many amazing products. And since you guys are always always asking for more affordable beauty finds, I decided it was time for round two! I actually found even more stuff this time than I did during my previous trip and discovered some new brands along the way too! And just like last time, I am so proud to be partnering with Walmart for their "Here For Every Beauty" campaign. It is a ground-breaking new beauty campaign that celebrates the 327 million faces that make-up America. With makeup shades covering the entire spectrum and personalized skin care options, Walmart has everything needed to celebrate inclusivity and individuality like never before. Beauty has a different meaning for everyone. Maybe it's a classic red lip, a sunkissed bronze look, a no-makeup makeup look, or maybe just a solid set of skincare. For me, it's a little bit of everything and Walmart is my one stop shop. So today, I wanted to share my favorite affordable summer beauty products from the WALMART BEAUTY section. With such an incredible selection and great prices, shopping beauty has never been so easy!

First up is a new brand discovery called SGX NYC. I picked up their DO IT ALL 3-IN-1 TEXTURE SPRAY, which not only smells amazing, but has really brought my dull, flat hair back to life – hello volume! Their SO WHIPPED MOUSSE is another favorite. I have been applying it to my roots after getting out of the shower and it actually keeps my greasy hair at bay and allows me to go longer between washes.
Any good makeup look starts with a great base. While scanning the aisles, the PHYSICIANS FORMULA RESTORE SKIN BOOSTER instantly caught my eye. And while it was definitely the gorgeous packaging that initially made me purchase it, the results are what make me keep using it. It has really given my skin this beautiful glow from within look, my face looks more bright and much less tired and dull.
For foundation, I love using something a little lighter weight and natural looking during the summer. The MAYBELLINE DREAM SATIN LIQUID MOUSSE FOUNDATION is my go to. The formula provides medium buildable coverage and has the most gorgeous dewy finish. I also love mixing it with a few drops of the L'OREAL PARIS TRUE MATCH LUMI GLOTION HIGHLIGHTER then apply it with my BEAUTY BLENDER to my face. It gives me the most beautiful glow from within finish.
To set my makeup in place, I decided to finally give in and try the cult classic COTY AIRPSUN LOOSE FACE POWDER. I don't know why it took me so long to try it, but now that I have, I am never looking back. NOTHING has ever set my under eyes more beautifully. Not cakey at all and most importantly, NO creasing!!
Summer is all about color so to bring a little more into my life, I grabbed the COVERGIRL PEACH PUNCH BLUSH. The color is absolutely gorgeous and really makes your cheeks pop. You can apply just a light dusting for a hint of color or build it up for a look that really pops.
And since no job is complete without the right tools, I picked up some of my favorite brushes ever, the REAL TECHNIQUES EVERYDAY ESSENTIALS. I actually used RT brushes when I first got into makeup many moons ago. Back then, they had a very simple small line but still amazing quality. They've since expanded to include a wide range of brushes but kept their amazing quality. Their ULTRA PLUSH POWDER BRUSH is my favorite powder brush of life! And for eyes, definitely check out the ENHANCED EYE SET.
And because I love a bronze goddess look, I dust a little L'OREAL PARIS SUMMER BELLE BRONZER on. I apply it to my temples, contours of my cheeks, bridge of my nose and anyplace else the sun would naturally hit. It makes me look like I've been vacationing in the tropics!
To make sure I really sparkle, I apply the MAYBELLINE MASTER CHROME HIGHLIGHTER in Molten Gold. This baby will make you shine bright like a diamond and gives your skin the most beautiful glow. I like to apply it on the high points of my cheek bones and a tiny bit on my cupids bow too!
A good lip color can make or break a look. I found the most GORGEOUS lippie while shopping and have since gone back to buy several backups. The MILANI KEEP IT FULL LIP PLUMPER SOFT ROSE is the shade I have been searching for forever. It's that perfect nude/pink we all spend hours swatching lippies looking for. Not only that, but the formula is super nourishing and has a plumping effect too for that perfect pout.
I never thought this day would come, but you guys, I found my perfect eyeshadow palette. The MILANI MOST LOVED MATTES PALETTE is what I have long been searching for. It's a beautiful mixture of brown, purple and mauve shadows and is basically my dream palette. The formula is super smooth and easy to blend. A great beginner palette for anyone just getting into makeup!
While at the store, I also grabbed a refill of the L'OREAL PARIS VOLUMINOUS LASH PARADISE MASCARA. The exquisite formula and fluffy brush really make my lashes pop. I always get asked what falsies I'm wearing when I apply this – it's my best kept beauty secret and most re-purchased product.
Brows can also make or break a look and I finally found and amazing affordable brow product! The MAYBELLINE PRECISE MICRO BROW PENCIL comes in a few different shades and is dual ended. The twist pencil applicator is the perfect size for creating little hair like strokes to fill in your brows. Whether you want something more natural or bold, this pencil can do both and everything in between. It also has a little spoolie brush on the other end to blend and brush.
My hair tends to get super dry and damaged during the summer. To combat the sun and keep my hair healthy, I have been use the GARNIER FRUCTIS HAIR MASKS. They are packed with loads of hair repairing ingredients that refresh even the most dull and lifeless locks.
And last but not least is something my skin ALWAYS needs during the warmer months – lotion! I am the PICKIEST person of life when it comes to lotion. They are either too strongly scented, not moisturizing enough, too greasy, etc. So imagine my surprise when it was love at first application with the NEUTROGENA HYDRO BOOST BODY GEL CREAM. It has a really nice, light and fresh scent but the formula is whats truly out of this world. It a gel cream hybrid that blends seamlessly and absorbs quickly for smooth, supple skin for days!
So there you have it! All of my favorite affordable summer beauty finds – make sure to check out the product slider below too where I've linked a bunch of my other favorite products!

* Thank you to Walmart and RewardStyle for sponsoring this post. As always all opinions are 100% my own. And thank you to each and every one of you whose support makes all of this possible! #Sponsored #WalmartBeauty #HereforEveryBeauty