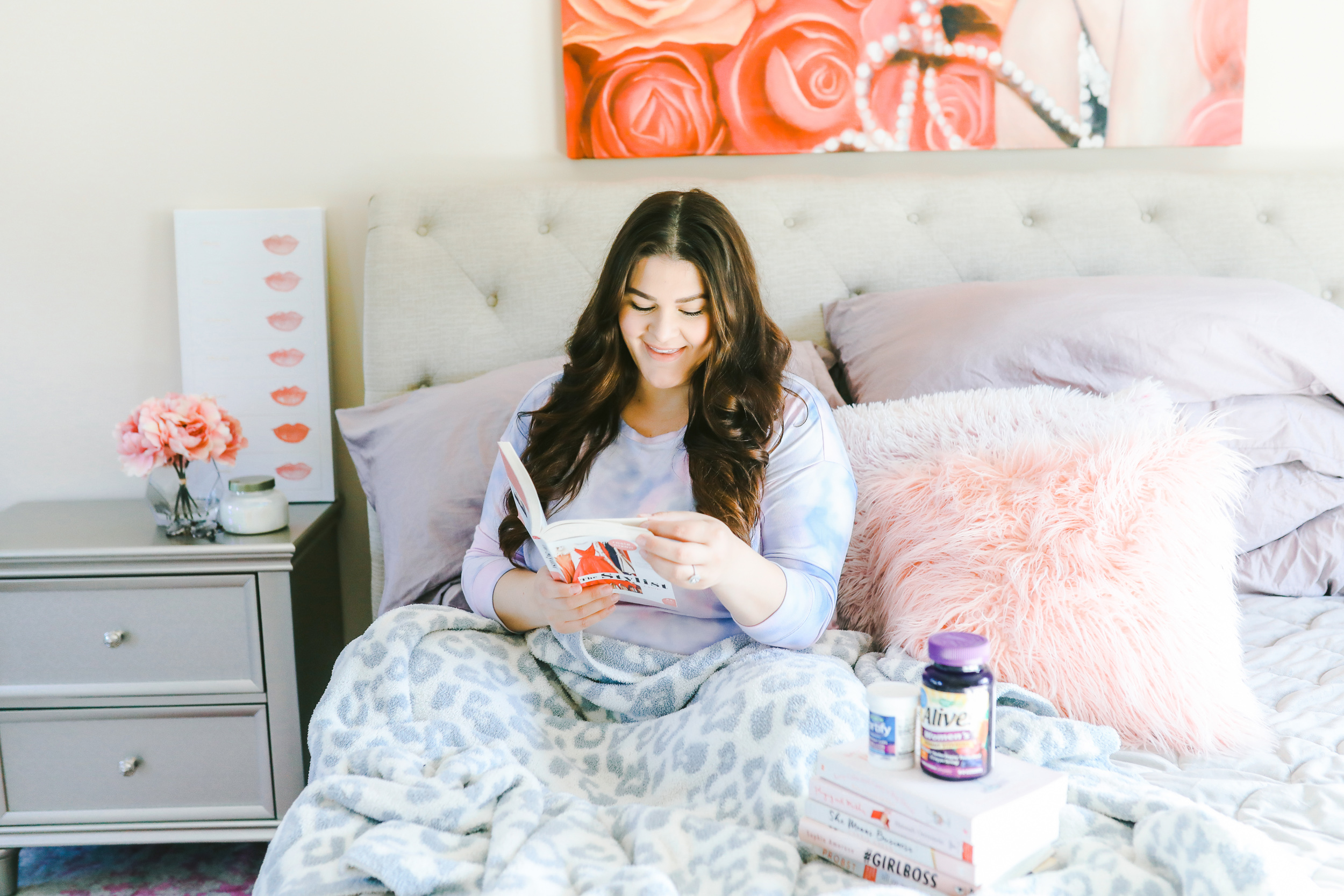 Thank you to Nature's Way for sponsoring this post. As always all opinions are 100% my own. And thank you to each and every one of you whose support makes all of this possible! #Sponsored #FeelAlive #MyWayToWell #OwnTheMorning
How do you practice self care? For a long time, I didn't at all and it definitely showed. I got so caught up in work, being a wife, a mom, and just life in general that I completely disregarded making time for myself. And practicing self care doesn't mean you have to disappear on an exotic vacation for 10 days or spend hundreds of dollars at your local spa. There are so many ways to practice self care that don't involve spending tons of money and can be done right from the comfort of your own home.
One of the biggest and most impactful ways I practice self care is by taking my vitamins. Sounds silly I know, but hear me out. We put our bodies through so much. Work, cooking, cleaning, studying, running errands, playing with our children, going to the gym, the list goes on. It's so important we make sure we have the fuel we need to keep us going.
Two of my favorite supplements that I take daily are the ALIVE! WOMEN'S GUMMY VITAMINS and the FORTIFY WOMEN'S 30 BILLION PROBIOTICS. The ALIVE! WOMEN'S GUMMY VITAMINS are packed with 16 vitamins and minerals including vitamins, A, C, E, Biotin, B12 to support bones, skin and nails, and so much more.* They provide great nutrition designed specifically for women. I like to refer to them as my "magic vitamins" because they have such a great combination of ingredients and they taste absolutely amazing!
Next up are the FORTIFY WOMEN'S PROBIOTICS. For years I had horrible digestion and stomach issues. A friend recommended these to me and since taking them, I have never looked back. And on the rare occasion I forget to take them for a few days, my body totally can tell! They contain 30 billion active probiotic cultures per capsule to support not only digestive balance but immune health too!* I have found that in addition to helping with my digestion and stomach problems, I hardly ever get bloated any more.* Another plus is that they are also Gluten Free and Non-GMO Project verified.
These supplements and eating a healthier diet really help me make sure I am practicing self care from the inside out. Now let's talk about the outside a bit!
Who else loves a good face mask!? I am not exaggerating when I say I have DRAWERS full of them. But for a long time, they weren't being used. Now, I make it a habit to do a face mask AT LEAST 2-3 times a week. Whether it's for an hour, or just a quick 10 minutes, a good face mask not only really helps my skin, but it helps me feel more put together and glowy throughout my week. And for those of you sitting there going – "I just don't have the time!" – make it! I am the QUEEN of multi-tasking, sometimes, I will do a face mask while folding the laundry, putting away the dishes, or answering emails. Sometimes I even do them while I play with Mia – she has actually participated with me a few times. I found some great children's masks or will even just let her apply a bit of baby lotion or fresh honey to her cheeks so she feels included. It's the cutest!
Exercise – it is something I will honestly probably never love. I'm just being honest. But what I do love, is how it makes my body feel. When I exercise regularly, even if it's only for 20 or 30 minutes a day, I feel like a different person. I'm less tired, less cranky, I sleep better, and I notice how my body just FEELS better overall. Even if it's just a quick walk around your neighborhood, some jumping jacks on your lunch break, or even just some stretches and crunches while watching The Bachelor – do it! My favorite lately has been walking the beach and doing some light yoga. It really helps me to find some inner peace in my crazy day to day life and the sound of the ocean is just sooooo relaxing!
Now we have talked about the body – we can't forget the mind! Make time to do something you absolutely love. Maybe you have a favorite TV show, or love to read books like me. Or perhaps you love to bake or paint. Set aside a small block of time each week to do exactly that. For me, reading is my happy place. I get absolutely LOST in a good book. It almost transports me into another world. And even if it means getting up an extra 30 minutes early, make the time! I promise, you won't regret it! OH- and if you happen to love baking, vanilla cupcakes are my favorite…just saying!
Setting aside time for yourself is more important than you know. I have heard some people say they can't take time away from their spouse or family for self care, but what I am here to tell you, is that by practicing self care and making sure you take care of yourself, you will be showing up as the best version of yourself and actually be MORE present throughout your days.
So tell me in the comments below, how will you practice self care?

* These statements have not been evaluated by the Food & Drug Administration. This product is not intended to diagnose, treat, cure or prevent any disease.