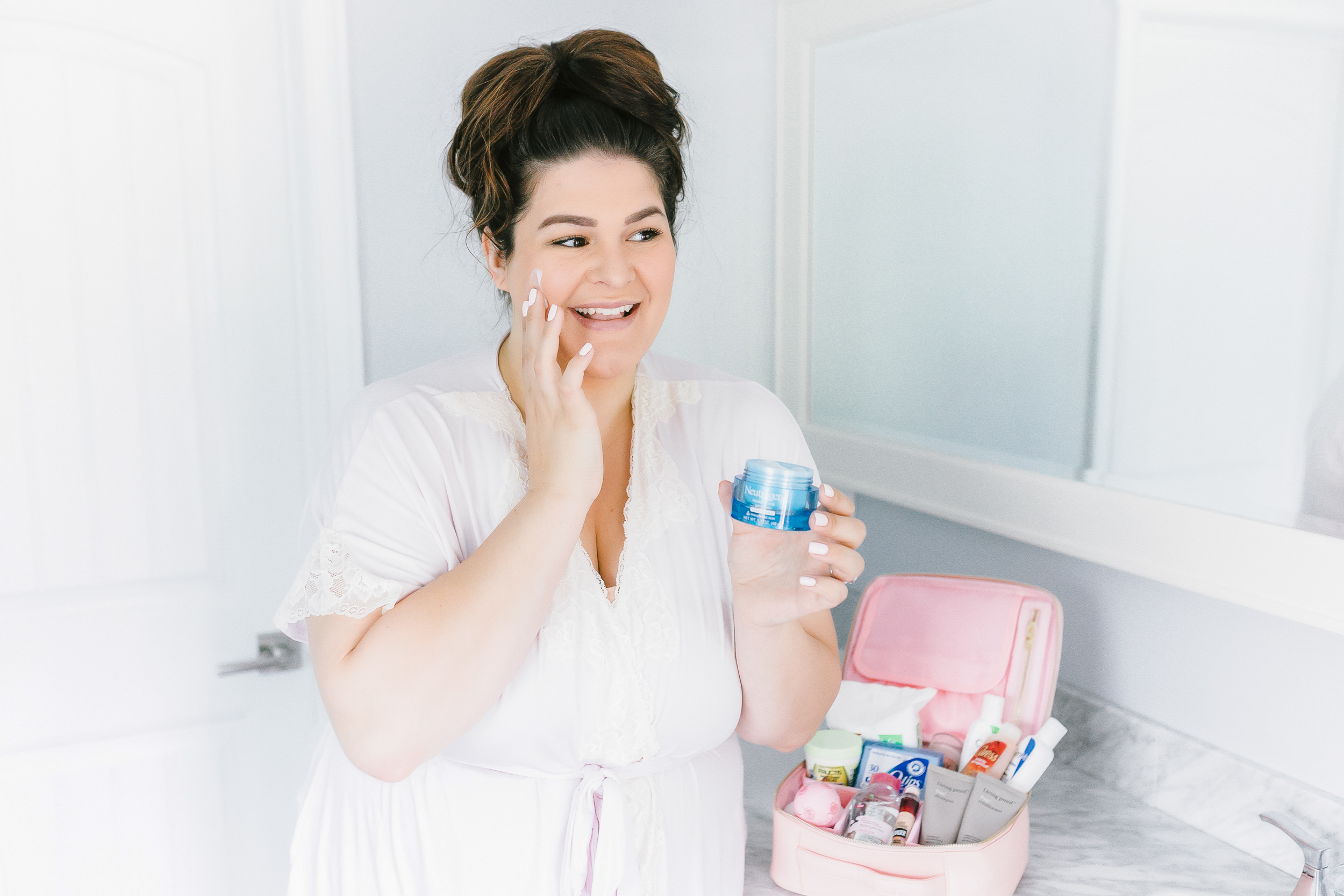 I am so excited to once again be a part of the WALMART HERE FOR EVERY BEAUTY campaign!
If you've been following along on my IG stories, you got to see my recent trip to Paris, which needless to say, was INCREDIBLE! If you missed it, you can check everything out in the "Paris" highlights on my profile. While there, I got SO many messages about how great my hair, skin and makeup looked and asking what products I had been using. Well today is the day I am here to spill all the details. When traveling, I definitely can't bring my entire bathroom with me (however much I may want to), but I always make sure to pack all the essentials to make sure I keep with my basic beauty routine. And since I have been living for all of my new WALMART BEAUTY DEPARTMENT finds, I decided it would be perfect to see what travel sized offerings they had for my trip. To say I was blown away is a total understatement!

So lets start with the foundation of beauty – skincare. The first step in any skincare routine for me is always taking off my makeup. I love using the GARNIER SKINACTIVE MICELLAR CLEANSING WATER. It does an amazing job of just melting the makeup right off my face. Then I go in with my favorite makeup wipes ever, the CERAVE MAKEUP CLEANSING CLOTHS. They are super gentle and perfect for getting around your eyes – no one likes the leftover eyeliner/mascara look! Together, I consider these two products my "pre-cleanse". Then for my final cleanse, I go in with the CERAVE HYDRATING CLEANSER. Now that all my makeup has been removed, this thoroughly cleanses the skin and really balances my skins moisture too.
And last but not least to make sure everything stats hydrated, I have my daytime moisturizer – the CERAVE MOISTURIZING LOTION. It's a lightweight formula and I love that it doesn't make me oily throughout the day. For nighttime, I like to use something a bit heavier and always reach for the NEUTROGENA HYDRO BOOST GEL CREAM. The hybrid formula is the perfect balance for my oily and acne prone skin. Oh and because we all know that I am a face-mask addict, I NEVER travel without one. The OLAY FRESH RESET STICK MASKS are perfect for refreshing dull, tired skin, but have a no mess application and are TSA travel size too!
Now onto hair care. Let me start with my version of a short horror story – NO CONDITIONER. A few years ago, the hubby took me to Paris and when I tried to pack a bottle, convinced me the hotel would have conditioner. Well guess what?! Not only did the hotel not have it, neither did ANY store in a 25 mile radius. At least not that we could find. I went 7 DAYS without being able to brush my hair. These days, I won't even go on a simple over night trip without my holy grail shampoo and conditioner. Speaking of which, did you know that Walmart has premium brands like LIVING PROOF, BENEFIT COSMETICS, BEAUTY BLENDER and more?!
Walmart now carries not only the full size and jumbo sizes (my fave), but they have travel sizes too – HALLELUJAH! The LIVING PROOF ANTI FRIZZ SHAMPOO and CONDITIONER are the only thing I use to wash my hair. They keep my hair, shiny, healthy, and control all my crazy fly aways. And since my mask addiction doesn't stop with skincare, I also brought along the GARNIER FRUCTIS AVOCADO HAIR MASK.
Body wash is another thing I am super particular about so when I saw my absolute favorite formula in a travel size at Walmart, you know I stocked up. Believe me when I say the CARESS BURNT BROWN SUGAR BODY WASH is life changing. I refuse to use anything else. And whether I am cleaning my ears, touching up my lips or removing leftover eye makeup, Q-TIPS are always a must. This little travel size case is perfect for gals on the go. And last, but certainly not least – is my "secret" to staying fresh no matter where I go. This adorable little SECRET FRESHIES deodorant ball is perfect for keeping in your travel case or purse.
And because organization is key, I found the absolute cutest PINK TRAVEL CASE. It's the perfect size and has customizable compartments too. When I am not using it for all my travel toiletries, it actually doubles as my makeup case. It even has pockets for my makeup brushes.

* Thank you to Walmart and RewardStyle for sponsoring this post. As always all opinions are 100% my own. And thank you to each and every one of you whose support makes all of this possible! #Sponsored #WalmartBeauty #HereforEveryBeauty