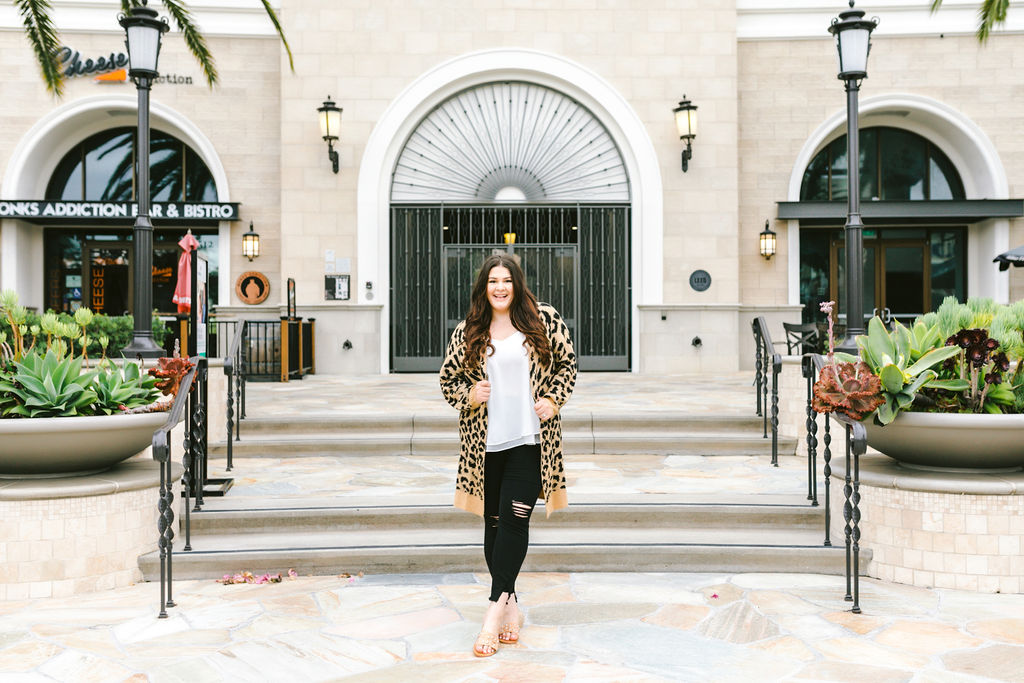 My favorite season of the year is finally here!! I am not kidding when I say that I am a total PUMPKIN FREAK! I love pumpkin everything – pumpkin spice frappucinos, pumpkin scented candles, pumpkin decor, pumpkin scones, if it smells, tastes or looks like pumpkin – I want it!
But there's there something else about fall I am totally obsessed with – the fashion! Leggings, sweater, chunky cardis, basically all my favorite things in life. Today I wanted to round up all of this fall seasons favorites that I consider to be essentials for my fall staple wardrobe.
First up is this LONG LEOPARD CARDIGAN. I mean, can you think of anything that screams fall more than that? This cardi can be styled so many different ways to create endless outfits. One of my favorite ways to style it is with some DISTRESSED BLACK JEGGINGS (these ones are to die for) also found a great AFFORDABLE DUPE and a white cami. A casual but chic look that can be dressed up or dressed down. The cardi would also be gorgeous with a black leather skirt or simple BLACK BODYCON DRESS too!
Dresses are another thing I can't go without no matter the season. I bought this adorable SATIN TIE NECK DRESS in both the GIRAFFE and SNAKESKIN prints. It insanely flattering on ALL of my curves and pair great with HEELS (these are the comfiest pair every) for a night look or BOOTS for a more casual daytime feel. This TWO TIER SNAKESKIN DRESS is another one I have been wearing non stop. I love the flirty fit and paired it with a PEARL DENIM JACKET for a little pop of glam.
I've never been much of a skirt person, but the minute I slid on this LEOPARD PLEATED MIDI SKIRT it was love at first sight. It's the perfect length and the pleats really give it a fun flirty flow. I love pairing it with a simple BLACK LONG SLEEVE TEE or a GRAPHIC TEE tied in a front knot for a more edgy look.
Last but certainly not least is the softest GREY LEOPARD TWIST FRONT PULLOVER. It literally feels like you are wearing pajamas. I have paired it with everything from a simple pair of blue jeans, to black leggings and pretty much everything in between. You could even throw this over a basic black bodycon dress for a fun chic look!
Also, these aren't clothing but I couldn't do this post without sharing these amazing LEOPARD SLIP ON SNEAKERS. I have had mine for almost two years and have worn them countless times with tons of different looks – a little pricey but honestly worth every penny!
And since you guys know I love my bags, here are the EXACT DUPES perfect for pairing with all your animal print looks.