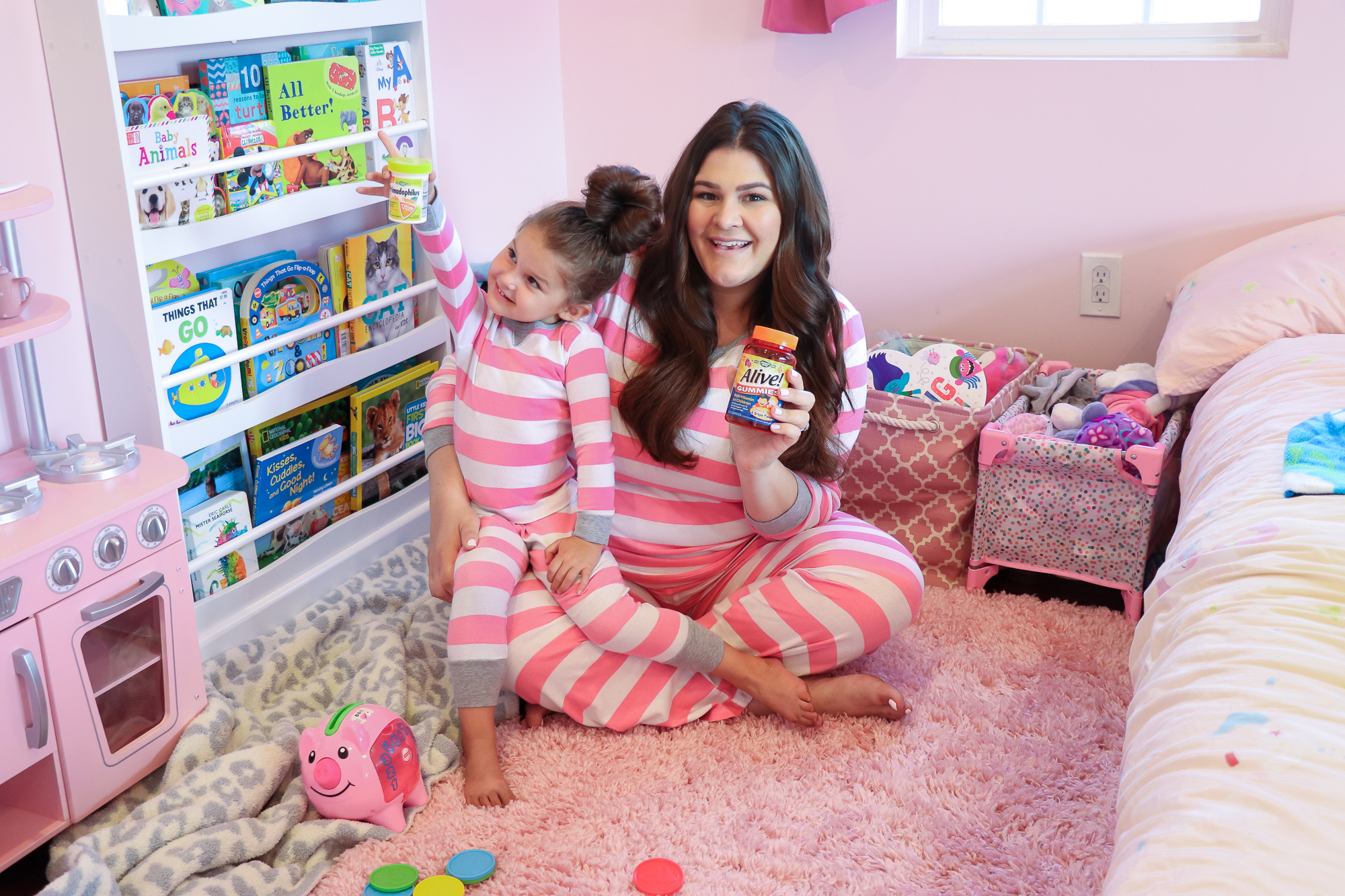 Thank you to Nature's Way for sponsoring this post. As always all opinions are 100% my own. And thank you to each and every one of you whose support makes all of this possible! #Sponsored #FeelAlive #MyWayToWell #OwnTheMorning
To all my fellow moms, this one is for you! I see you momma, making lunches, doing countless loads of laundry, running these kids all over town while trying to maintain your own sanity. I see you and I am right there with you. Being a mom is hard! Harder than any of the MANY jobs I have had in my lifetime – and trust me I've been through some doozies.  So today, I wanted to share my number one mom hack to make #momlife a little easier.
Mia started preschool about 2 years ago and it has been such an amazing experience. Not only for her, but us as parents too. Seeing her learn and advance and explore all that the world has to offer is one of the greatest gifts you can be given as a parent. It has also given her the opportunity to make friends which is so important to me since Mia is an only child. We have been fortunate enough to make friends with many of the other parents at the school as well. I mean, after all, our kids all share so much already – crayons, books, toys…and of course germs.
I'm not gonna lie, the first few months of preschool were filled with a lot of stay-at-home days. One week in particular, I had gotten a little stir crazy after being home with a toddler for several days in a row. So when hubby got home, I took a much needed break and headed to one of my favorite stores – Whole Foods. Wanting to maintain my own immune health, I pushed my cart through the vitamin aisle to stock up on my favorite Nature's Way supplements. Then out of the corner of my eye, I spotted this neon orange bottle (we all know I am a sucker for pretty packaging) and there was the simplest solution staring me right in the face – the Alive! Children's Multivitamin Gummies.
Ever since that day, Mia and I both take our vitamins together every morning. While I take my Alive! Women's Gummy Vitamins, Mia very delightedly takes her morning "candies" as she so lovingly calls them. Also known as the Alive! Children's Multivitamin Gummies. They are packed with 14 vitamins and minerals per serving along with a powder blend of Orchard Fruits & Garden Veggies. And their delicious flavors of Cherry, Orange and Grape give them a great taste so Mia actually looks forward to taking them every morning.
Nature's Way Primadophilus Kids is another favorite of ours. Mia refers to them as her "orange candies". Besides having a delicious citrus flavor and great chewable consistency (kinda like sweet-tarts), they are formulated with 3 probiotic strains to help support healthy digestive flora.* A happy tummy is essential to a happy toddler!
So there you have it, my number 1 mom hack. Tell me in the comments down below what yours is! I would love to give them a try.