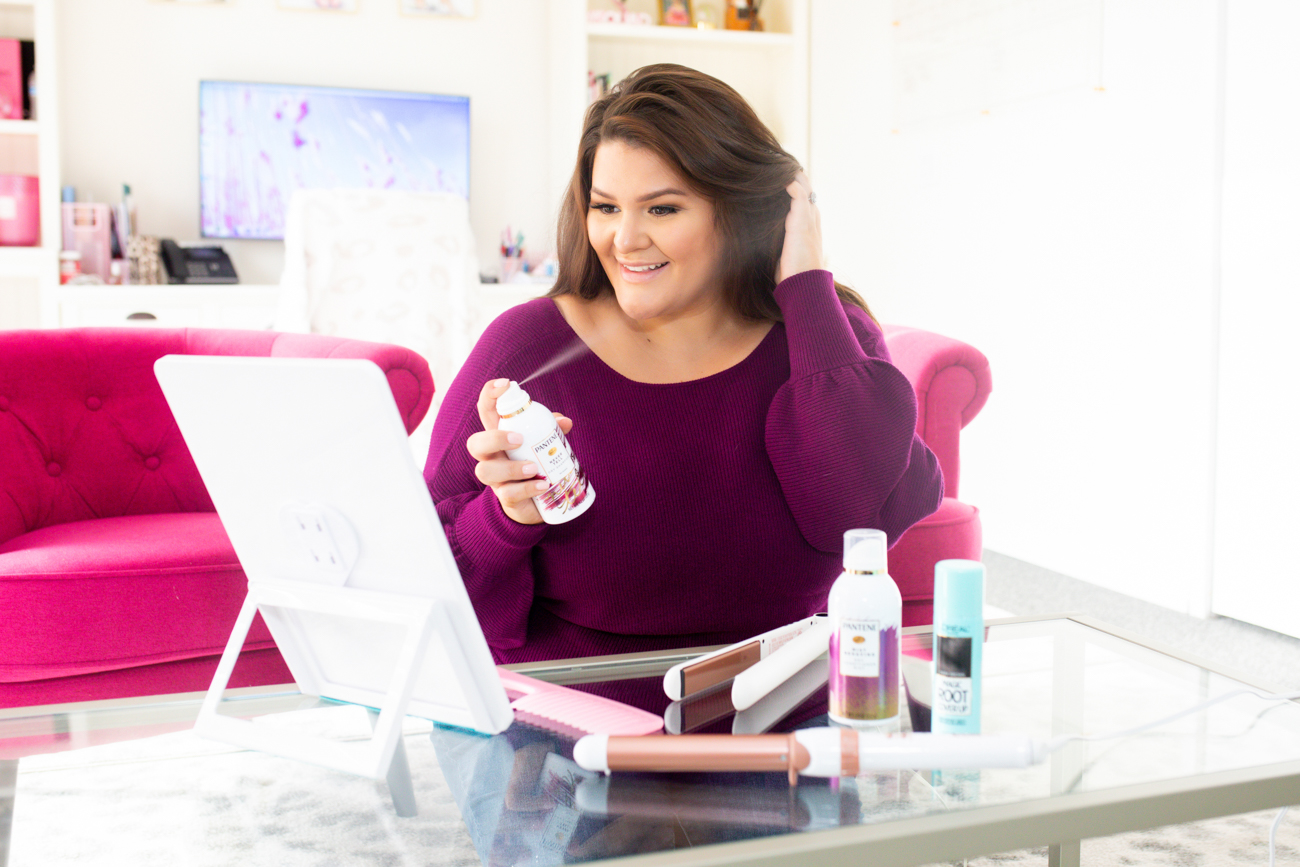 Okay, the next "BEST OF" post is going to cover one of the topics I get asked about most often – what products do I use on my hair?! While my focus has always been plus size fashion, I have gotten so many requests for more beauty related content and I am more than happy to share! So today I am going to share the Best Affordable Hair Products 2020. If you are curious about my other beauty favorites, you can check them out HERE but today's post is all about the best affordable hair products for 2020!

HAIR TOOLS
Favorite Curling Iron: This CURLING WAND is the best affordable hair tool I have ever used! Only $18 and can easily rival the $100 ones on the market. I am so beyond impressed with the quality! And did I mention that it has a "turbo" feature and tons of heat settings for all different hair types?! I set mine to the hottest setting which is why the curls last longer and are easier to do – but you can always turn it down. Also, if you prefer a CLASSIC CLIP IRON, they have that too!
Favorite Straightener: When I purchased the wand, I grabbed THIS ONE. Under $20 and has multiple heat settings for a customizable styling experience. Extra long plates for faster results and because of the rounded edges, it can be used to curl your hair too! Tutorial on that coming to my IG STORIES soon!
HAIR BRUSHES
Favorite Brush: I swear by THIS brush. I've been using it for years and nothing makes brushing your hair so easy and painless. It's also the only one I use on little Mia!
Favorite Teasing Comb: I sometime wonder how I went so long in life without a teasing comb. THIS one is the best. It can be used to add volume, make a precise part and even tame fly aways.
Favorite Wide Tooth Comb: I always keep THESE lying around pretty much everywhere. Perfect for brushing out your curls!
Also, if you want that heavenly salon wash head massage at home, you have to check out this SCALP MASSAGER!
HAIR PRODUCTS
Favorite Shampoo/Conditioner: I rotate products big time – I find alternating each month or whenever the product runs out keeps them working better! This SHAMPOO / CONDITIONER are two of my favorite affordable formulas. Perfect for bringing damaged/heat styles hair back to life!
Favorite Dry Shampoo: I have tried dozens of formulas and THIS is by far the best drugstore dry shampoo on the market right now. Only about $6 a can and works SO well!
Favorite Dry Conditioner: Who even knew this was a thing?! I certainly didn't. THIS one is the perfect formula to restore moisture to your ends and help tame frizz.
Favorite Root Coverup: You guys have heard me rave about this ROOT COVERUP a million times. But for those who are new around here – it not only covers up your roots, but is also amazing for filling in sparse spots and making your hair look thicker and fuller.
Hope you enjoyed the post! I will be back soon with even more Best of Beauty & Hair finds! Let me know in the comments which product you are most excited to try!
Thank you to Walmart for sponsoring today's post.