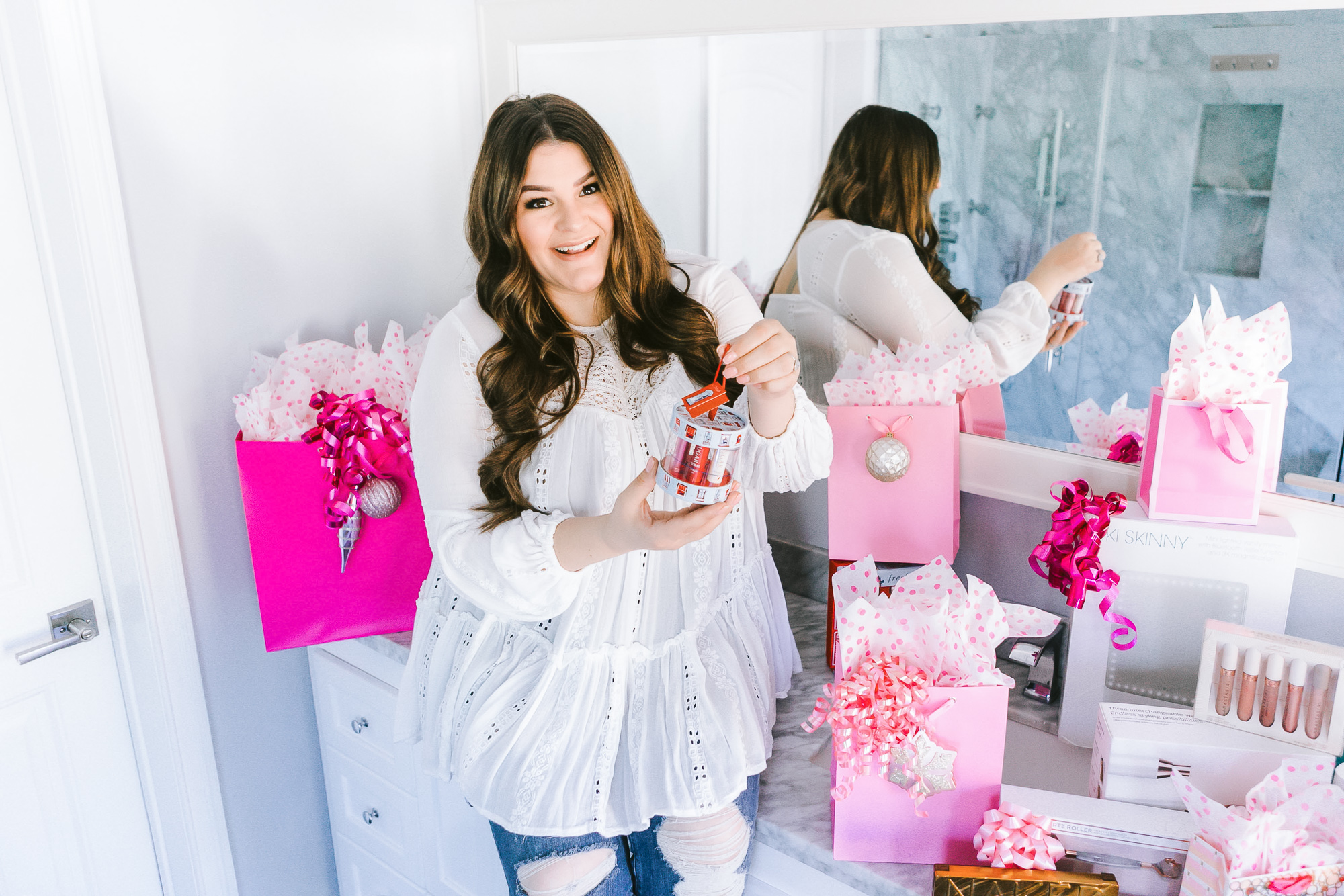 One of my absolute favorite Holiday traditions, besides the decorations, is gift giving. You see, I pride myself on being the ultimate gift-giver. I take notes all year long, jotting down requests, ideas and favorites so when November 1st hits, I am ready to shop for the perfect gifts for all the amazing people in my life. And in case you couldn't guess, shopping for beauty gifts is my favorite! It's no secret Nordstrom is where is shop for the majority of my fashion finds, but did you know they also have an INCREDIBLE beauty department? And even better, each year they put together the ULTIMATE SELECTION OF BEAUTY GIFT SETS of makeup, skincare, haircare, tools and more!

Gift Guides are something I look forward to every single year and last years were without a doubt my best yet. So this year, I am going ALL OUT! Each gift guide will cover a different type of gift selection/interest and today's, as you've probably guessed is Gifts For Beauty Lovers. Sisters, mothers, daughters, aunts, bff's, teachers, you name it. This gift guide is going to have something for all of the beautiful women in your life, and at price points to fit all different budgets too.
I picked up this adorable little PTR FACE MASK SET. It's only $25 and comes with 6 different types of masks sure to please all types of skin. Lately I have been getting TONS of questions about my eye makeup so I wanted to share my favorite two palettes. The UD NAKED HONEY EYESHADOW PALETTE is a beautiful mixture of fall taupes, golds and browns. Perfect for the everyday/light makeup wearer. Then for those like me, who love a bit of color, UD NAKED CHERRY EYESHADOW PALETTE is another great option. Filled with beautiful maroons, mauves, pinks and reds. Both have a mixture of matte and shimmer finsihes with an easily blendable formula and are just under $50.
The BEAUTYBLENDER TWO BB CLEAN SET is perfect for literally ANYONE who wears makeup. I don't know a single woman who couldn't use a new BeautyBlender and this little set comes with two alone with a full size cleanser. Know someone who's skin could use a little pampering? The FRESH HOLIDAY HYDRATION SET is an amazing value and comes with a selection of all my favorite products from their line. It comes with their cult classic toner, my holy grail lip balm, a face mask and a face cream too. It's basically a spa day all wrapped up into a cute little gift box.
For the ones who love sparkle, the STILA LIQUID EYESHADOW SET contains three shades of the most pigmented and easy to use eyeshadow ever. One swipe and your lids will be sparkling all night long. This ANASTASIA UNDRESSED LIP SET is another item I bought multiples of. It contains 5 full size tubes of the the most gorgeous nude shades. For my more natural makeup lovers, this FRESH BEAUTY SUGAR LIP SET is a total must have. They are the most moisturizing lip formula ever and have brought my lips back to life after some serious cracking and chapping. Each one also offers a beautiful hint of color and comes in an adorable little ornament gift set.

Now for my ultra glam girls. One of the most asked questions I get on my page is what I use to curl my hair. So whether you buy this for yourself (which I HIGHLY recommend) or a friend, luscious curly locks are sure to follow. The T3 WHIRL TRIO CURLING IRON SET is my holy grail hair tool. It comes with a base and 3 separate attachments to create endless hairstyles. The tapered wand is great for creating some kinky curls, while the large barrel is perfect for those loose beachy waves. And for my signature curls, I always reach for the 1″ straight barrel. It heats up instantly, evenly and most importantly, my curls last FOR DAYS! Also, if you want something a bit more affordable and don't necessarily need the entire set, THIS ONE is a great option too!
While this may look a little "basic", I assure you it is anything but. The BEAUTYBIO ROSE QUARTZ ROLLER is something that ANY woman would love. For starters, it instantly depuffs and contours the face. It increases blood circulation, which in turn produces collagen to reduces fine lines and wrinkles and helps with cell turnover. It also helps with pore size, under eye bags, the list goes on and on.
Last but certainly not least is the makeup mirror you see me using constantly. The RIKI SKINNY VANITY MIRROR has come with me on countless trips and saved me from even more makeup mishaps. This ultra thin mirror can be used on your vanity or tossed in your bag for on the go makeup application. It has 5 different levels of light, 3x magnification and a phone clip too for that perfect selfie. This is what I use to film all my tutorials and demo's too. My bathroom doesn't have the best lighting but you would never know if thanks to this bad boy!
I hope this gift guide has given you some great ideas and hopefully makes your holiday shopping a little bit easier! And hey, I know you saw some stuff in here that you wanted for yourself, so what are you waiting for?! Go on girl, treat yourself!! YOU DESERVE IT!!

* Thank you to Nordstrom and RewardStyle for sponsoring this post. As always all opinions are 100% my own. And thank you to each and every one of you whose support makes all of this possible! #Sponsored #Nordstrom