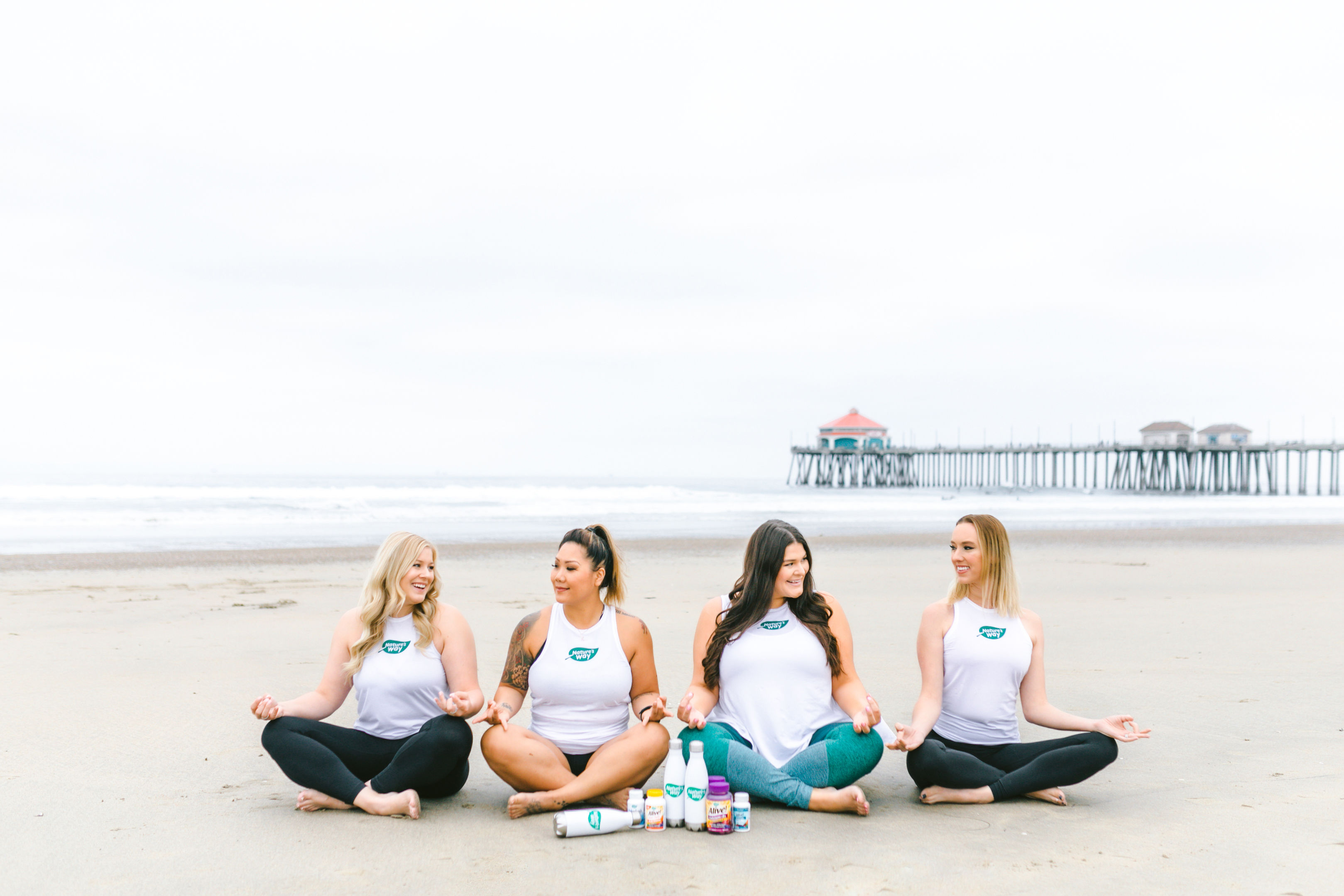 Thank you so much to Nature's Way for sponsoring this post and our incredible Yoga Day celebration!
To celebrate International Yoga Day this year, I decided to grab a few girlfriends, our favorite Nature's Way supplements and head down to Pacific City. To start the day, we had a little girl talk while sipping on water to make sure we stayed  hydrated throughout the day. Catching up on each others lives, sharing the best binge-worthy Netflix series, and of course dishing out all our favorite ways to stay healthy. I also gave all the girls gift bags with all my favorite Nature's Way supplements inside. It was important to me to give them all the perfect supplements not just for our Yoga/Wellness Day but for their everyday lives too. All of these girls are amazing! From being moms, to nurses, bloggers, athletes, we are such a diverse group of incredible women. Here is a little overview of what was in our bags:
ALIVE MAX3 DAILY – these tablets are the highest potency, nutrient diverse Alive! formula. They contain Daily Greens, Orchard Fruits/Garden Veggies, and Cardio powder blends plus digestive enzymes, Omega 3/6/9 fatty acid and more! This blend is great for bones, cells, eyes, heart, hair/skin/nails, digestion, metabolism, and immunity too! They are the ultimate multi-tasker when it comes to supplements! *
HYDRAPLENISH – these supplements contain the patented BioCell Collagen® complex for healthy connective tissue and skin.* They really help my skin look and feel so much more soft and supple.*
ALIVE CALCIUM +D3 GUMMIES – these help support bones, immunity, breast health and muscle function.* They contain 500mg of Calcium and 1,000 IU of Vitamin D3 per serving as well as an amazing powder blend of Orchard Fruits and Garden Veggies. Talk about yummy gummies!
HAWTHORN – such a great way to support healthy heart function!* It improves blood flow to your heart muscles.*  The key to a happy heart!
ALIVE STRESS LESS – I don't know a single person who couldn't use these! They are tailored specifically to help your body manage everyday stress and promote general well being. Made with lavender essential oil, ashwagandha, magnesium, vitamin C, D, B5 & B6. These are another great mutli-tasking blend.*
Goodie bags in hand, we headed down to the beach for some yoga. While we may not be experts at it, we definitely had the best time trying out all the different poses. We even teamed up for a few different partner poses that although definitely put my balance to the test, were so much fun to accomplish! I guess you could say we #nailedit There was also something so zen about doing it on the Huntington Beach shores. The sound of the waves, the smell of the salty air, and beautiful view definitely made our yoga session that much more special.
After wrapping up, we headed over to Pacific City for a little lunch and shopping. Lemonade was the perfect spot, they have such a great fresh selection of sandwiches, soups and salads. We munched on some turkey avocado sammies, arugula salads and sipped on the most amazing blood orange lemonade. Seriously de-lish!
After lunch, we grabbed our totes and took a stroll around the shops. It was the perfect ending to the perfect day! I want to give a huge thank you to my amazing girls, Emily, Tammi, Sophie & Kathy! You guys are seriously the best and I love you all so much! And a course a giant thank you to Nature's Way for sponsoring our Yoga Day celebration!

* These statements have not been evaluated by the FDA. These products are not intended to diagnose, treat, cure, or prevent any disease.