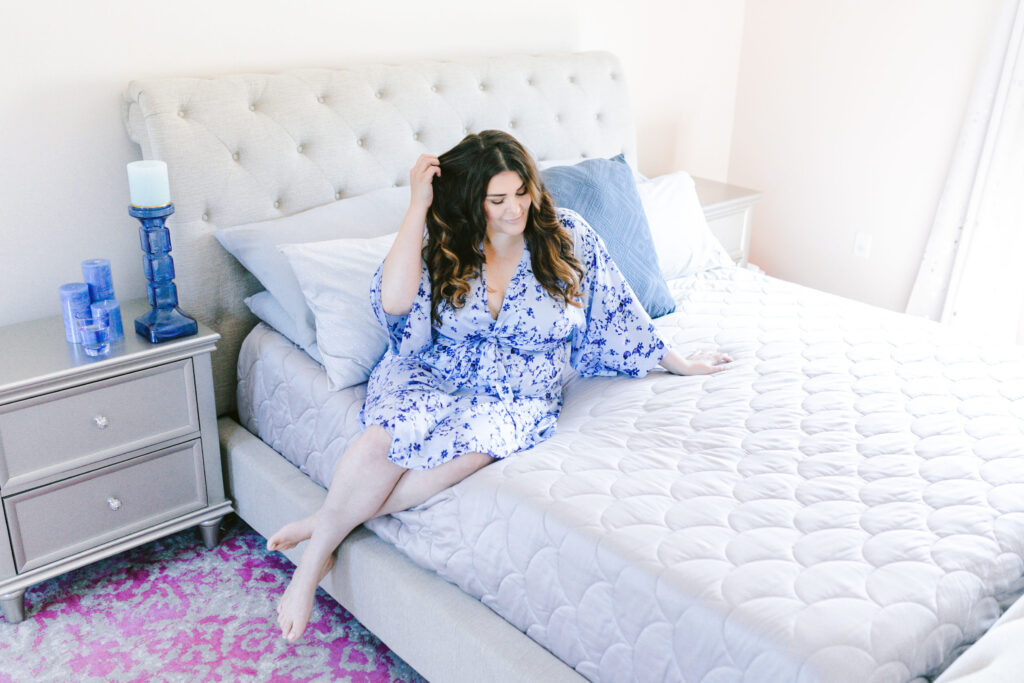 My Hair Care Routine is probably one of the things I get asked about most. What type of extension do I have? What's the maintenance like? What style is it? What products do I use? So today, I am spilling all the details.
Let's start with the basis of my luscious locks. Before getting pregnant, I had naturally, long thick hair. I know – you probably hate me, I hate old me too. Fast forward to post-pregnancy 4 years later, and my hair is SO much thinner and finer too. Extensions were calling my name. Several years back, I had tried the micro-bead extensions, and while my hair looked great, I felt that they did quite a bit of damage to my hair. Many say that after a while, they don't mind the feeling of the beads, but for me, they were quite annoying and I never got used to them even after a year.
In October last year, my incredible hair stylist Kirsten recommended tape in extensions. She told me they were the most natural feeling and least damaging as well – a total win in my book! So in my hair they went.
It was love at first sight! In under 60 minutes, my hair was totally "pinterest" worthy. The extensions themselves are real hair and can therefore be washed, dryed and styled just like your regular hair. I also love how minimal the maintenance it. I go about every 6 weeks to have them "moved up" – as they grow with your natural hair. The whole process takes under 30 minutes.
To get super specific, my extensions are called Hot Heads Tape In Extensions in the 18-20″ length. I get two bags, both in shade 6/20 from the Colormelt line.
Now….here are my top tips for keeping your extensions healthy. The ultimate Hair Care Routine:
1. Invest in good shampoo and conditioner. For years, I swore I would never use high end haircare – I told myself "it doesn't make a difference" – I am here to now tell you – it ONE HUNDRED PERCENT does. With my first set of extensions, I was using drugstore products. My hair was often very dry, easily tangled and was often hard to brush especially when wet. I chalked it up to this being normal for extensions. With my newest set, I switched to using this SHAMPOO & CONDITIONER and let me tell you – it is LIFE CHANGING! A bit pricier than drugstore products but still super affordable, they are worth every single penny. My hair (both real and purchased) is so much shinier, smoother, less frizzy and sooooo easy to brush.
2. Use a hair turban. Especially for those of you with longer hair like me. This HAIR TURBAN is my absolute favorite. It actually helps hair dry faster and reduces frizz. It also eliminates the tugging and pulling on the hair that most towels create which can often lead to breakage.
3. Detangling brushes should be your best friend. They are gentle on the hair and can be used wet or dry. As someone who has used to struggle with brushing their hair, I literally NEVER brush my hair with anything else. This is the exact DETANGLING BRUSH I use and swear by. I actually keep these brushes everywhere – in my bathrooms, purse, car, you name it!
4. Since extensions have no source of natural nourishment or oil from your scalp, its important to provide them with some. My favorite was to do that is this 5 IN 1 TREATMENT – it does ALL the things from detangling, heat protecting, moisturizing and everything in between. Next, it's important to keep some shine, this DRY OIL is my holy grail. It's weightless, nutrient rich and provides such a gorgeous shine to my hair without making it greasy.
5. Last but not least – dry shampoo! A good dry shampoo can make all the difference. You want one that is strong enough to keep your hair fresh without making it feel gritty or leaving that white powder cast – especially if you have darker hair like me. After trying dozens of different kinds, this DRY SHAMPOO is my absolute favorite. It keeps my hair looking and feeling super fresh and clean, doesn't leave any white cast, and makes my hair smell incredible too.
So there you have it…all my secrets to long, luscious hair!
xo – Nicole