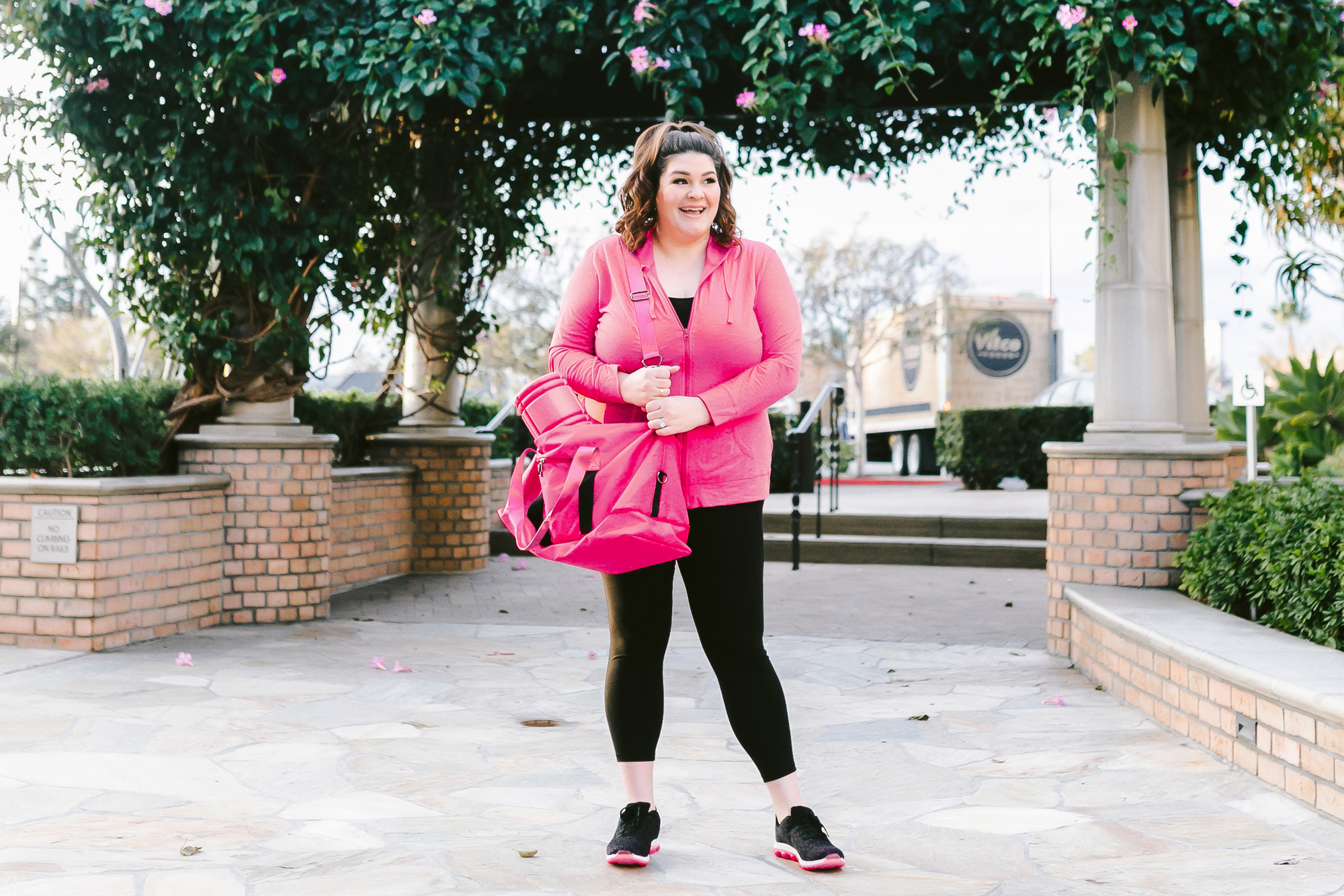 This year, I don't want to "re-invent" myself or set unrealistic expectations. I want to focus on being the best me that I can. If you have been following along on my IG stories then you know that this year I really want to focus on developing lifelong habits and lifestyle changes that will help me be happier and healthier without all the mumbo jumbo that goes along with it. Although I don't think I will ever actually "love" exercise, I do love the way it makes my body feel and the way it clears my head. So whether I am working out in my home gym, going for a stroll with Mia or hitting a local class, I like to a have everything I need to feel fresh after my workout. And thanks to WALMART, I can grab all the essentials I need to make that happen.
It's a well known fact that a cute workout outfit is the best motivator to get active (totally kidding, kind of…). Anyway, I found these awesome LEGGINGS, HOODIE and SNEAKERS for a total steal and I am absolutely living for the fun color combo. Not to mention how well the sneakers tie it all together! But let's talk about my other workout essentials, shall we?
Now, before ANY workout, whether it be a simple walk or a full bootcamp session, the DOVE DEODORANT is always a necessity. I have been using this particular one for several years and it has never let me down.
First up is my absolute, number one, holy grail product for freshening up after a workout – the LIVING PROOF DRY SHAMPOO. You have heard me rave about it a million times before and today is no different. Nothing refreshes my hair after a sweaty workout like this does! I also love these NO DAMAGE HAIR TIES!
Have you ever tried a foam roller? I had never even heard of one until a friend let me try hers. Now, I can't live without it. The TRIGGERPOINT GRID FOAM ROLLER has been a life saver for me and my sore muscles. It really helps to loosen the stiffness and speed up my recovery too.
And to help with recovery from the inside, I take the VITAL PROTEINS COLLAGEN PEPTIDES. It helps with your hair, skin, nails, tendons, you name it! It's also flavorless so you can mix it with your water, coffee, a smoothies, or whatever you like.
After a workout, the absolute first thing I do is grab a wipe to give my face a quick clean. I love the CETAPHIL GENTLE CLEANSING WIPES, they instantly clean and refresh my skin but still leave it feeling hydrated. You will never catch me without a pack of these on hand. Once I get to the nearest restroom, I also go in with the CERAVE HYDRATING CLEANSER to really deep clean my skin. Especially since most days I do my workouts early and don't want to go through the rest of my day without thoroughly cleansed skin.
And since soft lips are always a must, I always toss my EOS STRAWBERRY SORBET LIP BALM in my bag.
So there  you have it, everything you need to refresh after a workout! So what are you waiting for girl? Go get it!!

* Thank you to Walmart and RewardStyle for sponsoring this post. As always all opinions are 100% my own. And thank you to each and every one of you whose support makes all of this possible! #Sponsored #Walmart #HereForEveryBeauty