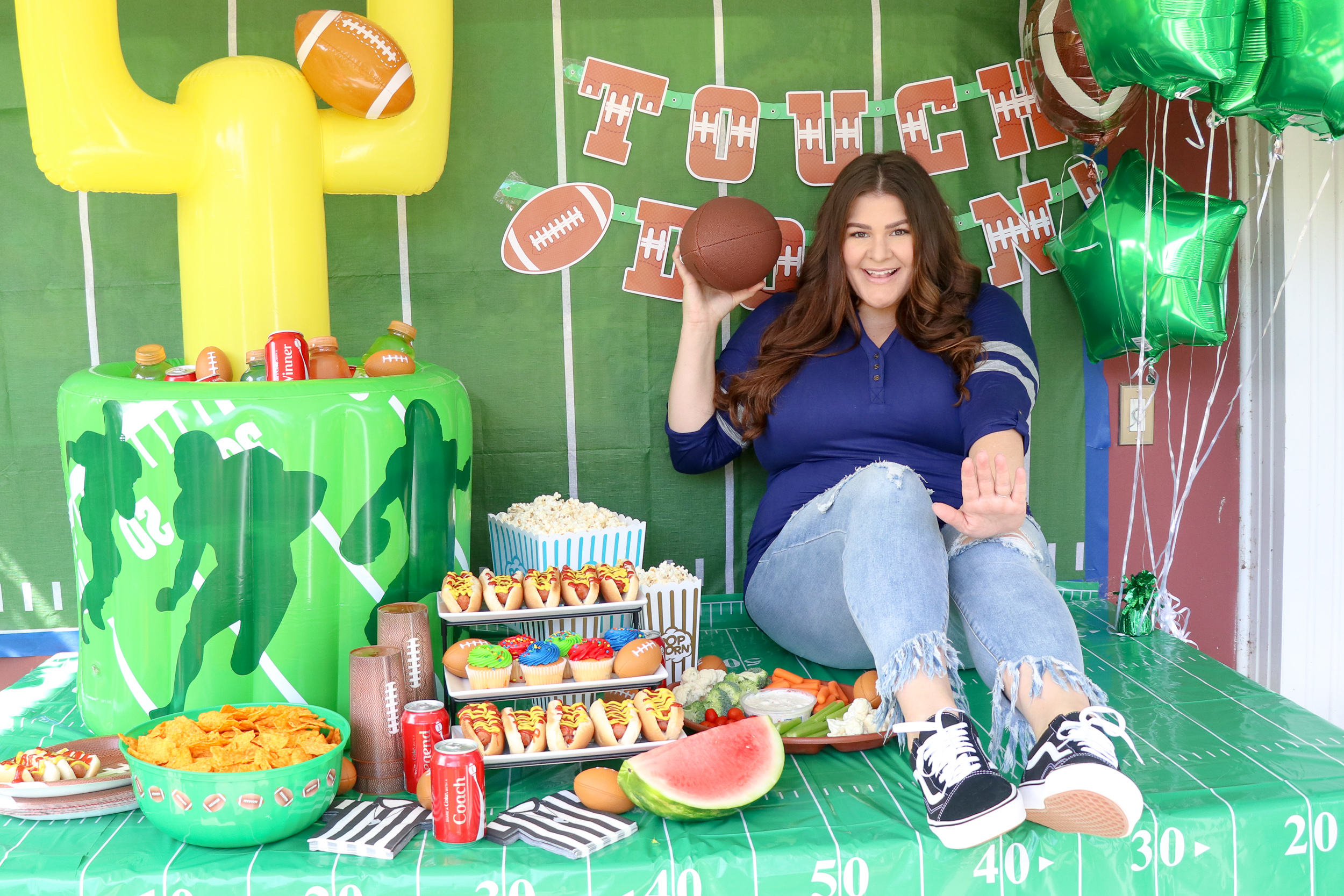 In case the title didn't give it away, today's blog post is all about how to throw an epic game day party. While I may not be the biggest "sports fan" on the planet, I do love getting everyone together to watch a good game and enjoy some time together. And of course, being the good little party planner that I am, no detail gets missed which is exactly why I love going to WALMART for all my game day essentials. With everything from decorations, food, tailgating supplies and tons more, WALMART is a one stop shop and I can grab everything I need to throw one heck of a party.
As a former interior designer, I strongly believe decor can make or break a party. I found a TON of incredibly cute DECORATIONS at my local store. Everything from banners, backdrops, balloons and one of my favorite items which was this adorable FIELD GOAL COOLER. I love that this piece serves as both a cooler and a great focal point too. Literally everyone who came to the party asked me where it was from! To really tie things in, I also picked up these DOOR COVERS to use as backdrops, it really made everything pop!

Getting food ready for tons of people can be a bit daunting which is exactly why I am obsessed with my INSTANT POT. I can toss a bunch of ingredients in, set the timer and within 20 minutes have a complete meal ready to serve. I love using it to make a giant batch of SPICY DR. PEPPER PORK , the perfect game day treat. And of course, no party is complete without some epic chips & dips. The CROCKPOT is one of my secret weapons. Every game day, I break it out to make a giant batch of BACON CHEESEBURGER DIP, it's the number one most requested dish at our parties!

And because I love details, I picked up these adorable FOOTBALL CUPS and FOOTBALL PLATES. To me, it's the little things like these that really tie a party all in and make it extra special. Oh and since I just love being "extra", I also found these REFEREE NAPKINS, I mean, come on…how could I resist? Plus they look so cute with my SERVING TRAYS. I also adore these TIERED TRAYS, they can be used for any party or even a brunch and add some great dimension to your setup. Walmart as such an amazing selection of groceries and serve wear, all guaranteed fresh and everything you need to make sure your family & friends have a great time!


So whether you are like me and love to throw a good party, or maybe find the task a little daunting, you don't have to worry! WALMART has got you covered. With everything from food, decor, appliances and more, they have everything you need all in one place. And great prices too! So what are you waiting for, get to planning that party girl!!

* Thank you to Walmart and RewardStyle for sponsoring this post. As always all opinions are 100% my own. And thank you to each and every one of you whose support makes all of this possible! #Sponsored #Walmart #HappyPriceHappyLife