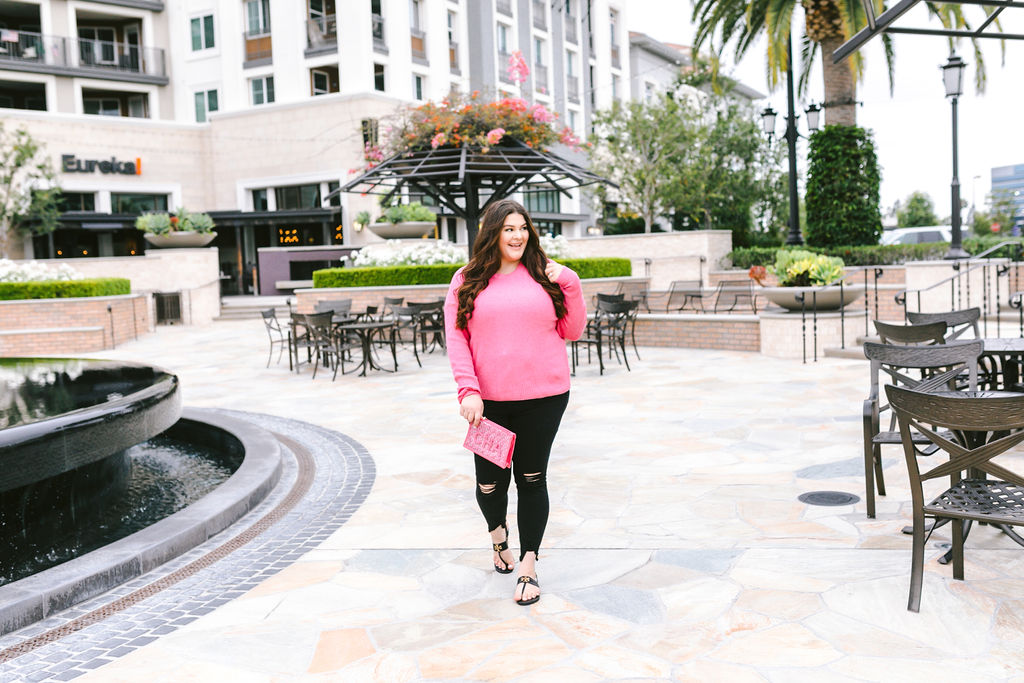 You probably read that title and went…"what the heck is going on?!", "has Nicole been abducted by aliens?!" but I promise you, it's me! Buying, styling, try-ing on, photographing and sharing new clothes is basically my job. But chances are, it's not yours. We live in a consumer driven world where we are constantly encouraged to buy the latest and greatest and essentially over-indulge at the sake of our bank accounts, to stay on trend. But that shouldn't be the case. If there is one thing I have learned over the years, it about quality over quantity.
So for today's post, I want to share a few items that I consider staples in my closet. Pieces that may carrier a slightly larger price tag, but ones that will last forever AND be styled tons of different ways to create endless outfit combinations. No more buying tons of clothes and spending insane amounts of money, today's post is all about getting some bang for your buck!
First up are the BLACK DISTRESSED JEANS. These are by far, my most worn item for fall. They are insanely comfy, which coming from a girl who prefers yoga pants above all, says a lot. They are soft and stretchy but also hold their shape well. I have styled them with everything from a LEOPARD TEE, to my favorite PINK SPECKLE SWEATER. I also styled them with a super cozy LEOPARD CARDIGAN and this amazing PLAID BLAZER.
The PLAID BLAZER is another great staple piece. I often will pair it with those BLACK DISTRESSED JEANS or even a pair of BLUE JEANS for a more casual look. It would also look amazing over a black bodycon dress!
A great dress is an essential no matter the season. This SATIN TIE WAIST DRESS is what dreams are made of. The soft silky fabric and perfect cut hug my curves in all the right places. I actually love the fit of this dress so much that I bought it in the GIRAFFE PRINT version too. I've worn it both with these insanely comfy (and affordable) BLOCK HEEL PUMPS and some cute KNEE HIGH BOOTS too.
So this reason, rather than spending tons of money on countless pieces you will probably only wear a few times, I encourage you to really focus on a few staple pieces that will stand the test of time. Go on girl, get that staple wardrobe going!!