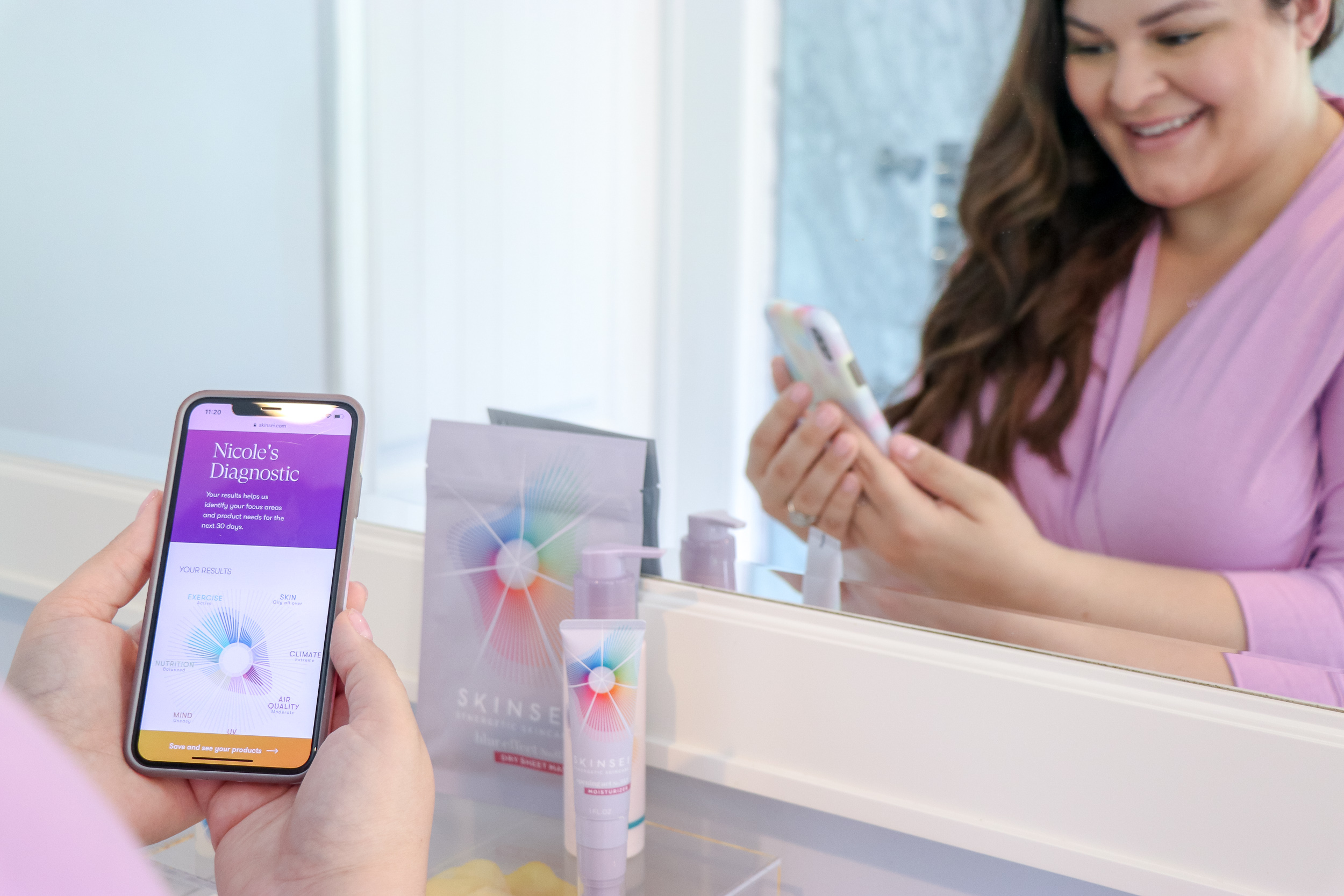 Skincare has been a big part of my life for as long as I can remember. As someone who has struggled with all types of skin issues and tried literally HUNDREDS of skincare products and brands, I definitely have my fair share of experience. I've found that often brands try to push skincare products as an "all in one" solution or on size fits all products for all skin types. But when it comes to skincare, everyones skin is SO different which is why I have been absolutely loving the SKINSEI line. Because there's no skin like yours, and no skin like mine!
It's personalized skincare based on how you live, sleep and eat. You start by taking their holistic DIAGNOSTIC QUIZ right from your smartphone. It asks questions such as your age, location, UV exposure amounts, mental and emotional well being, fitness routines, skincare concerns and more. It breaks everything down into 7 main categories including: Skin, Climate, Air Quality, UV, Mind, Nutrition and Exercise. It takes all of these factors to create a completely custom skincare routine using the best possible products for YOUR exact skin!
And what's even better is they get delivered right to your front door! You can do a one time shipment to test everything out and or sign up for monthly retails so you never run out of your skincare products. You can also take the diagnostic again to re-asses your skin at any point so your skincare evolves with you.
My diagnostic included:
UNDER THE MILKY WAY CLEANSER – I am OBSESSED with this cleanser. Normally at the end of a "makeup day" it takes several rounds of cleansing with various products to get my skin fully clean and makeup free. This cleanser does not only an amazing job of cleansing my skin, but it takes of ALL of makeup so smoothly and easily. A total dream!
ALL TONED UP – this baby is a total secret weapon. It's a stimulating toner that removes any hidden makeup, and really gets every last bit of grime out of your pores to tighten them. It also helps to rebalance your skins PH levels and keep your skin clear.
LUCID BEAMING SERUM – this skin brightening serum is packed with green algae and seaweed extracts to really brighten up your skin and protect it against outside aggressors. It has a nice lightweight formula that blends beautifully into the skin.
THROWING SHADE MOISTURIZER – I love that this product has SPF 30. The lightweight lotion instantly hydrates my skin without making it look or feel greasy and the moisture lasts all day long. It works as an amazing primer for my makeup too!
Last but not least is one of my favorite new discoveries – the BLUR EFFECT SHEET MASK. It is a revolutionary dry formula sheet mask that really evens skin tone and brings out your skins natural radiance without all the slimy mess. It also has these cute little ear loops to make sure your mask stays on and delivers maximum results.
So what are you waiting for?! Head over to SKINSEI now to get your own customized skincare routine and get glowing girl!!

* THANK YOU TO SKINSEI FOR SPONSORING THIS POST. AS ALWAYS ALL OPINIONS ARE 100% MY OWN. AND THANK YOU TO EACH AND EVERY ONE OF YOU WHOSE SUPPORT MAKES ALL OF THIS POSSIBLE! #NOSKINLIKEYOURS #NOSKINLIKEMINE